What is a concrete vibrator?
A concrete vibrator is a machine that uses power to generate frequent vibrations through an inner motor device as a vibration source and transmits frequent vibration through flexible shaft to concrete and then to vibrate it so as to remove air bubbles within the mixture and help concrete settle faster, enhancing longevity and strength of cement. The vibrators convert electric power into mechanical energy.
Where can a concrete vibrator be used?
The portable concrete vibrator machine provides factory price and free shipping, which operates with full copper motor offering a range of various rated power (800W, 1500W...to 4800W), matched flexible shaft, 110 / 220V voltage and different rotary speed (2840VPM, 3600VPM...to 18000VPM). It is widely used to tamp to make the concrete densely combined, eliminate cavities or honeycomb-like spaces in the concrete so that it is suitable for constructions of bridge, tunnel, harbor, large-scale dam, water wheel power plant and architectural engineering as a multifunction tool in construction industry.
Four types of concrete vibrators
1. According to the way of transmitting vibration, it is divided into three types: internal vibrator, external vibrator and surface vibrator.
★ Internal vibrators typically have better price and provide convenient operation due to their size and weight. They are also called immersion, poker or needle vibrators. They basically consist of a power unit and a long flexible tube at the end of which a vibrating head is installed. Power is provided by electric motors, compressed air or gasoline engines. The long tube houses a flexible shaft which rotates an eccentric weight inside the vibrating head. It is better to insert the vibrating head into the concrete before using so that the internal vibrators most effective when the vibrating head is in close contact with concrete. Our 3600VPM concrete vibrator is the type of internal vibrator that is one of your best choices.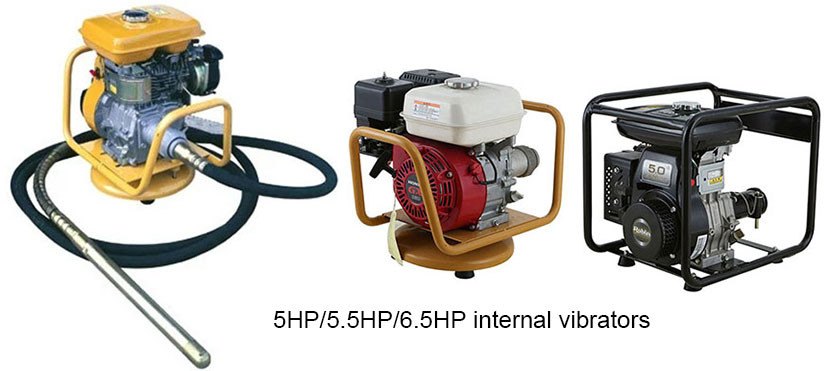 ★ External vibrator are also called form vibrators. They are clamped horizontally and vertically on the template with a suitable spacing not exceeding 90 cm in either direction and they were transferred as the work progresses. Such external vibrators make the concrete vibrate due to the vibration of the formwork, thus wasting a lot of energy. They can be used only when it is not feasible to use internal vibrators in case of in thin and crowded sections, arches and tunnel linings, etc. External concrete vibrators are an optimal choice for any vertical project, such as walls or other areas that require maximum reinforcement.
★ The most commonly used is the flat surface vibrators. Concrete surface vibrators are placed directly on the concrete surface and the vibration wave generated by the vibrator is transmitted to the concrete through the fixed vibration baseplate. Because the vibration wave is transmitted from the concrete surface, they are called a surface vibrator, also called screed or pan vibrator, which is only effective when the concrete depth reaches 20 cm. If the depth is more, they can be combined with internal vibrators to use within the mixture, they are very suitable for large-area, small-thickness concrete on pavements, bridge decks, etc.
2. According to the power source of the vibrator, it classifies as electric type, internal combustion type and air-driven type.
★ Electric concrete vibrators are the most popular type of concrete vibrators in concrete pours due to their high RPM that is needed to thoroughly remove air bubbles quickly. Their shapes are smaller, but they can use longer shafts as opposed to air-driven vibrators that can work with an effective maximum length of 10ft, while electric concrete vibrators can use shafts at an effective maximum length of 20ft. 4000VPM concrete vibrator on Tool.com store is one of the electric concrete vibrators which will make you have perfect work.

★ The advantage of air-driven concrete vibrators, also called gas concrete vibrators, is that there is no need to drag an electrical cord through wet concrete, providing additional portability in situations where electricity is difficult to obtain, but they do not have the high speed of rotation like their electrical counterparts. The gas vibrator can be worn like a backpack and has additional maneuverability that can be used in difficult places, especially where electricity is not available.
3. According to the vibration frequency of the concrete vibrating tool, there are three types, namely, low frequency vibrator, intermediate frequency vibrator and high frequency vibrator.
★ The high-frequency concrete vibrator converts single-phase energy into three-phase energy in terms of power conversion, which can provide power consistency for large-scale projects.
4. According to the principle of vibration generated by the vibrator, it is divided into two types: eccentric vibrator and planetary vibrator.
Concrete vibrator price list
| | | | | |
| --- | --- | --- | --- | --- |
| SKU | Vibration Frequency | Rated Power | Net weight | Price |
| T-CV-1100 | 2840VPM | 1100W (1.5HP) | 17kg | $247.92 |
| T-CV-1500 | 2840VPM | 1500W (2HP) | 17kg | $339.60 |
| T-CV-3600 | 3600VPM | 3700W/4100W/4800W (5HP/5.5HP/6.5HP) | 20.5kg | $988.46 |
| T-CV-5600 | 5600VPM | 800W (1HP) | 2.3kg | $118.80 |
| T-CV-1300 | 11000-13000VPM | 1300W (1.7HP) | 3.2kg | $141.60 |
| T-CV-17000 | 17000VPM | 1500W (2HP) | 5.3kg | $237.77 |
| T-CV-2300 | 17000VPM | 2300W (3HP) | 5.5kg | $228.98 |
| T-CV-2000A | 4000VPM | 2000W (2.5HP) | 6kg | $182.29 |
| T-CV-2000 | 18000VPM | 2000W (2.5HP) | 6kg | $202.69 |