T-RG-HD
Reasonable price heavy duty hand rivet gun for sale, selectable 13 inch/16 inch, suitable for aluminum rivets, 3.2mm/4.0mm/4.8mm. A high quality industrial riveter is made from reinforced alloy steel material with plastic handle, high hardness and durable.
T-RG-HP
Economical price hand pop rivet gun for sale, size in 10 inch available, made from high quality alloy steels, plastic handles, suitable for aluminum blind rivets, size in 2.4mm/3.2mm/4.0mm/4.8mm. It is a best choice to use a portable hand pop riveter to fasten items.
Rivet Gun
A rivet gun is a fastening tool to drive a rivet in place, which consists of a head and two handles. The hand riveter applies to various fields, such as automotive applications, infrastructures, aircraft manufactures, railways, furniture, ornaments and so on. A rivet is made up of a body and a mandrel, the mandrel of a rivet needs to be broken when the body has been driven into the item by a rivet gun, which is the perfect riveting job.
We provide different types of rivet guns at Tool.com.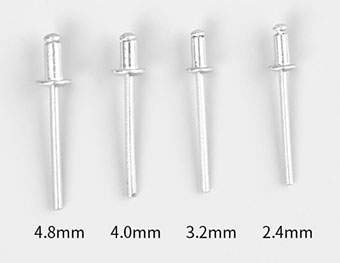 13 inch heavy duty rivet gun
Plastic rubber handles are designed for the 13 inch heavy duty rivet gun that is comfortable to hold and labor saving. The head of the rivet gun has high hardness and strong grasping force, which helps you finish riveting work easily. It fits aluminum blind rivets of which sizes are 3.2mm, 4.0mm, and 4.8mm.
16 inch Heavy duty rivet gun
The 16 inch heavy duty rivet gun has two ergonomic handles that are comfortable to hold and suitable for long time working. It fits aluminum blind rivets as well, size in 3.2mm, 4.0mm, 4.8mm. The nozzle of the rivet gun can be replaced with a wrench and the head has a Compression-saving spring that makes your work labor saving.
Hand pop rivet gun
The hand pop rivet gun is one of the most popular riveting tools, which can drive a rivet in a single blow. A hand pop rivet gun has four different nozzles that fit aluminum blind rivets whose sizes are 2.4mm, 3.2mm, 4.0mm and 4.8mm. A wrench stores in one handle of the rivet gun in order to help you replace nozzles.
How to use
You should wear safety gloves and glasses before you do any riveting work, because the dust from the broken rivets may hurt you. Select suitable blind rivets because the blind rivet fits for the rivet gun to drive instead of hammering. It is better to make sure the maximum weight the rivet can bear. And then arrange items you will rivet. You could drill some holes in advance so that you can install rivets easily.
Grasp the rivet in one hand and press the handle with the other hand. Put the mandrel of the rivet into the rivet gun as much as possible in order to fix it to the head of the riveter. And then release the handle so that the rivet stays in place.
Insert the rivet body into a hole of the object, make sure the rivet body through the hole in the clear. Pull the handle of the rivet gun until you feel the resistance and make sure that it has tightened the top of the rivet, and then release the handle. Pull the handle again to break the mandrel of the rivet. That's all, the rivet has been fixed on the item.
Use the same way to install other rivets. When you finish all riveting work, you need to check whether each rivet fastens the item effectively. In this way, all the work is done.
Applications
Riveting is usually a more cost-effective method of advanced fastening that is an ideal option for the product whose back is out of sight. Rivets have a variety of materials, types and sizes that fit different kinds of rivet guns. Riveting meets different requirements of applications, as long as fixing items with rivet guns, it can withstand the intense vibration in different environments. Nowadays, riveting still is a popular fastening way, which widely used in different fields, such as housing construction, wall decoration, woodworking, ornaments, aircraft, etc.
Housing construction
Nails can't fasten metal sheets together, but rivets can. Therefore, various common objects may be connected by rivets, such as gutters, windows, clothes hangers, doors and so on.
Wall decoration
Riveting is necessary if you need to hang some decorations on the wall or install ceiling lamps. The rivet gun is an ideal tool for this fastening work, because the back of the wall is invisible. Almost any types of ornaments can be easily attached to the wall and the ceiling with a rivet gun.
Woodworking
Almost everything made of wood needs rivets, such as wooden shelves, cupboards, wardrobes, etc. As we all know, rivets are durable than nails and screws, therefore, riveting is an ideal option for holding furniture in place for a long time. In addition, the handles of doors and drawers as well as are usually held by rivets.
Ornaments
Sometimes, bracelets, jewelries and other ornaments as well as need to be attached with rivets, in order to add the texture to products.