Who We Are?
Tool.com is a wholesale distributor for all kinds of tools that shipped from Chinese manufacturers directly, which allow you to get fast-selling, quality and useful items at real competitive prices. Known for the one-stop online wholesaler and retailer over the years, we have built our reputation on low prices, large selection and great service. We are committed to being your trusted tool source and treating each of our customers the way we would like to be treated. At Tool.com store, you'll find full selection of wholesale tools, which are Power Tools, Hand Tools, Garden Tools, Kitchen Tools, Air Tools, Construction Tools, Automotive Tools etc. for industrial use, household use, construction site and repair shop. Whether you're a professional or DIYer who wants to get your job done right, we're here to help you buy the best tools and equipment you need at a price you can afford, largely save your time and money.
History of Development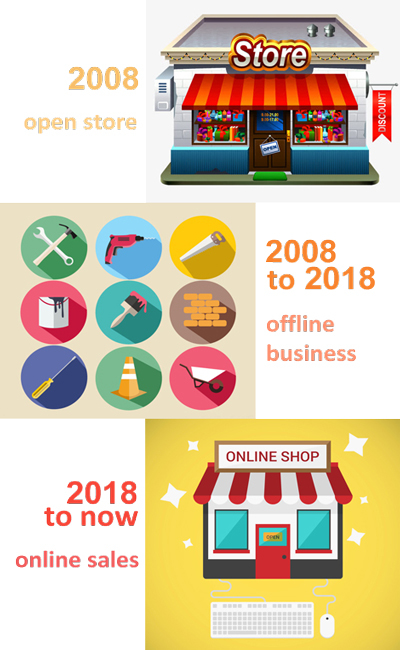 2006-2008, opened a brick-and-mortar store.
Nigel purchased and used diverse tools due to his hobby--DIY. One day, he found it's troublesome to choose the type and the quality of tools. In that instant, he came up with an idea of opening a store. The original intention was that in this store, everyone can convenient buy tools by highest quality and the most affordable price. It took him two years to visit manufacturers and select the best products carefully by comparing the goods of each them. In 2008, a store named TOOL was successfully opened, and received widely good reputation in the early stage.
2008-2018, focus on offline business.
A few years after opening the store, a good reputation has been established in the hearts of customers, and the distribution scale of TOOL offline business has gradually expanded. Due to the large number of orders and many supporters, we have transformed from a small scale store with the highest profitability from the factories we cooperated with to become the superior distributor.
2018 to now, online sales.
With the continuous development of TOOL offline business, the demand from customers has also increased, especially the overseas. In order to make it more convenient for them to purchase, Tool.com was built. Through the Internet to advertise and sell products, the overseas market is constantly growing. We strive to be the best choice for customers at home and abroad. In addition, we are committed to making customers buy with confidence on Tool.com.
Why Shop on Tool.com?
1. Wide Selection & Wholesale Price
Having the right tools is the key to any successful project. You never know when you might need them so it's best to have a basic tool set on hand. Tool.com online store provides thousands of superior quality tools to choose from and maintain a high level service. New products are offered every day, along with discounts and big sales for saving money, simply let us know the products and quantities you are interested in. The more you buy, the more you save.
2. Fast Shipping & Good Service
Our full range of products can be ordered from us online or call toll-free with fast order processing, free shipping and easy return service. We ship our products worldwide via FedEx, UPS, DHL, Air or Ocean at an affordable rate, so you can trust that you will receive your purchase in time.
3. Secure Online Shopping
Our customers can shop anywhere, anytime by using our online store. We have advanced security features built into our online shopping portal to keep your credit card and other personal information secure and protected. Therefore, you can browse our online store to find the wholesale tools you want and place your order with confidence.
4. Professional Technical Support
We have gathered the best teams of professional sales and technical experts to provide cost-effective solutions for customers every day and strive to exceed every customer's expectations and change their lives. Meanwhile, we have created a positive and energetic work environment that enables them to successfully achieve this goal and realize their personal professional growth and value in the process.
We Wanna Know...
Your feedback is an integral part of our business. Is there something that you love about our tools and you want to know more of them? Do you have an idea or suggestion that would make our store even better? LET US KNOW!