Do you often need to process and preserve excess agricultural products? Are you prepared to store food for a long time to deal with various emergencies? Do you want to make a variety of dried fruit snacks without additives? Dehydration is an interesting, cost-effective and easy way to slowly remove water during the drying process while retaining the nutrition and flavor of the food. We provide home/commercial stainless steel electric food dehydrators (food dryer) online, you can choose different sizes according to your needs, such as 6-tray, 10-tray, 16-tray, etc. The product is equipped with temperature control from 30°C to 90°C (86~194ºF), 24-hour timer, three dimensional loop heating design to make food dehydrated quickly and evenly. You can buy a food dehydrator to store food or snacks now. A professional-quality food dehydrator helps you preserve fruits, vegetables and herbs, and even make delicious beef jerky and homemade yogurt!

What is a food dehydrator?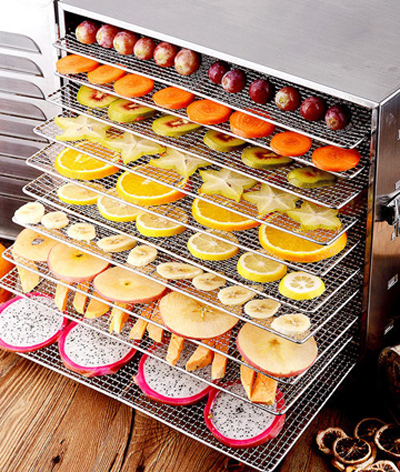 Food dehydrator (aka food dryer) is a kitchen appliance used for drying or dehydrating food. This device uses built-in heaters and fans to move heat and create air flow to reduce the moisture in the fruits, vegetables, meat and other foods on the tray. Removal of water in food can inhibit the growth of various bacteria and destroy food. Food that has been properly dehydrated will continue to retain most of its original nutritional value. In addition, removing moisture from food can significantly reduce the weight and volume of food, thereby making it easier to store.

Why dehydrate?
There are many ways to preserve fruits, vegetables, and meat (such as fermentation), but dehydrating food is one of the easiest ways to cook.
Using a food dehydrator to remove water from food can inhibit the growth of various bacteria and destroy food. Water makes fresh foods have a short shelf life and is convenient for long-term storage after dehydration.
Dehydrated food retains the nutrients and vitamins of the food and has higher nutritional value than canned or frozen food.
The weight and volume of dehydrated food are greatly reduced, making it easier to store and carry.
Food dehydrators have begun to replace oven drying because it not only saves a lot of energy, but also makes the kitchen cooler.

How to use the food dehydrator?
Clean the tray with water or non-abrasive detergent and dry it.
Cut food into thin slices. The drying time of the food depends on its thickness. The thinner the food, the faster it will dry. Place the sliced ingredients on the tray. Even if you do not have enough food to fill all the trays, please install all the trays and place the food on the top layer. For example, if you only dry one layer of trays, please fill all trays and ensure that the food that needs to be dehydrated is on the top layer.
Fruits and vegetables should not exceed 60 degrees to avoid destroying vitamins. For drupe fruits, such as apples and pears, drizzle with lemon or lime juice before drying to keep the color. For green vegetables like broccoli, spinach, peas and celery, try blanching them in boiling water (1-2 minutes), then soak them in ice water for a few minutes, then remove them and place them on a paper towel to dry the excess of water.
When the dehydration is completed, first adjust the temperature control button to the lowest temperature, blow for 3 to 5 minutes, and turn off the power after the temperature drops to protect the heating equipment of the dehydrator and prolong the service life of the product. Dehydrated food can be put in a sealed bag/sealed can.
After preparing the product, you can add any sugar, salt or spices at will. Place the processed food slices on the tray, then place the tray to food dehydrator, and set the timer to 6 to 12 hours, depending on which agricultural product you are using.
When cleaning after use, the trays can be rinsed with water, but note that the host (electrical part) can only be wiped clean with a damp cloth, not washing or soaking.