What is wall cutter machine?
Wall cutter machine mainly comes with diamond saw-blade, host motor, circuit breaker, walking hand wheel and hand wheel and other important accessories and it is widely used to cut large-area walls to reconstruct and strengthen buildings or old ones as a multipurpose construction tool. 
Features:
This wall cutting machine comes with a heavy-duty double-insulated high-power motor and reducer and features in non-destructive structure, one-time forming, low failure rate, long service life and saving maintenance costs. Its special mechanical clutch protection device effectively prevents damage to the machine and operator due to misoperation. The manual or automatic cutting control device can not only improve the construction quality and speed up the construction but also greatly reduce the labor intensity of the operator.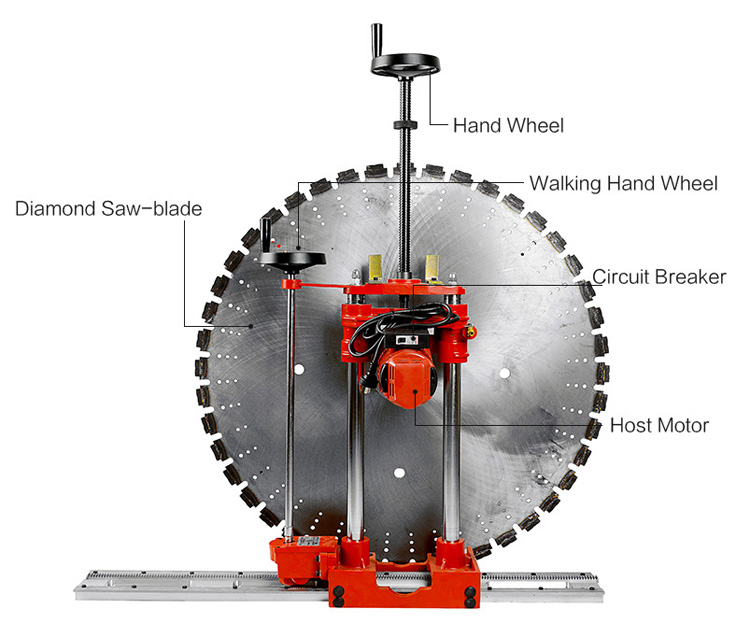 Application:
Wall cutter machine is mainly used for cutting or slitting reinforced concrete walls, brick walls or stone materials, reconstructing and strengthening buildings and old ones, chnaging building design, etc. The wall saw cutting machine can cut large-area walls such as door holes, windows or elevator holes.
How to maintain wall cutter machine?
1. At the end of the wall cutting machine operation, cut off the power supply, wipe away the water and dirt on the surface of the cutter and panit its working surface by oil to protect it.
Most importantly, pay more attention to all fastening bolts and transition parts regularly to avoid corrosion.
2. Keep the machine idling for a moment to remove the dust inside the machine. Because the accumulation of dust inside it will affect the normal operation and its service life.
3. The construction cutter should be stored on a fixed rack to avoid kneading and bumping.
4. Check and replace the carbon brushes regularly before cutting walls and keep the carbon brush clean so that it can slide freely in the clip.
5. Check the insulation of the equipment regularly and it should be repaired immediately if any leakage is found.
6. The wall cutter machine should be dried regularly if it has been working in a humid environment or used for a long time.
7. In most cases, portable wall cutting machines should be operated with water so that rubber gloves and rubber boots should be worn by users during the operation as a protective measure against electric shock.
8. It is very necessary to check carefully whether there are cracks or damages on the cutting saw blades before cutting. If there are potential such risks, replace blades immediately.
9. Do not damage the rotating shaft and bolts. Otherwise, it will cause damage to the cutting blade.
10. At last, it is necessary to avoid the cooling water entering the electric motor, or it may cause electric shock.
Buy factory wholesale wall saw cutting machine on Tool.com, hand control and semi-automatic type wall cutter machines are available here, with best quality, free shipping, cheap price and different cutting depth for selection. All of them are powered by strong pure copper motor, providing more powerful, efficient and convenient operation. Besides, thicken diamond saw blade is not easy to transform, suitable for granite, marble, high standard concrete etc.