Staple Guns
Staple guns are manual tools used for driving heavy duty staples into wood, plastic and other materials. A staple gun is an indispensable tool for household projects, such as hanging decorations, laying carpet, installing wall pictures, assembling furniture and so on. It is suitable for DIY and professionals, which is practical, durable and labor saving. In addition, a staple gun can drive a staple through a weaker material without tearing it. At Tool.com, we provide 3 in 1 heavy duty staple gun and light duty manual staple gun that meet your needs for fastening products.
Types of staple guns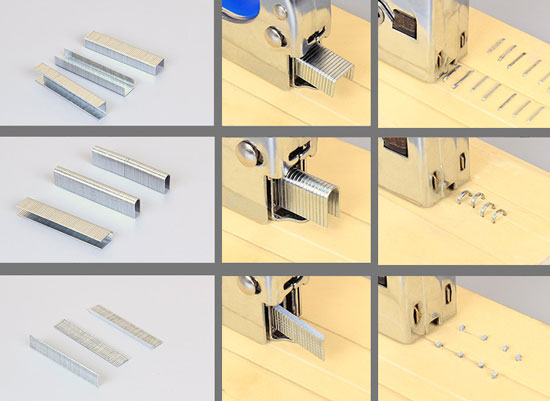 3 in 1 heavy duty staple gun
A 3 in 1 heavy duty stapler is suitable for three types of staples that are door/T/U shaped whose dimensions are 8mm/10mm/12mm. Door shaped and U shaped staples should be placed in the middle of the nail slot, and T shaped staples should be placed in the left or right of the nail slot. It is made from high quality alloy steel with heat treatment, which is durable and tough. A bolt on the top of the staple gun is adjustable, therefore, you could adjust the strike force according to the material you will nail. But you'd better not take out the bolt.
Light duty manual staple gun
A light duty staple gun is suitable for U shaped staples. It is made from anti-rust steel materials with soft plastic handle that reduces fatigue when you are working. The handle adopts a humanized arc design, which is more comfortable to hold. It has a staple loading port with simple press button design, which is convenient for loading and unloading staples. A thicker spring in the nail slot makes the strike force more powerful and laborsaving.
Applications
Generally, a tool has various uses, and staple guns are no exception. A high quality staple gun can be used not only for several years, but also for various projects, which is an ideal tool for assembling objects. Here are the areas in which staple guns are commonly used.
Package
A staple gun is commonly used for fastening cartons, because the staples are stronger than packaging tapes. The cartons fixed with the staples are very durable even in wet weather. The staple gun can be used not only to make cartons, but also to fix foam boards. The advantage of the staple gun is that it can effectively fix the foam board without breaking it, which greatly improve the quality of products.
Install carpet
Everyone knows how to install carpet on the floor, and most of them install carpets with a hammer and nails. However, if you want to save your time and energy, it is better to use a staple gun for your work. Using a staple gun is a more efficient way, as long as you gently press down on the handle, you can drive the staple in.
Make photos frames
An experienced woodworker will use a staple gun to attach the frames, which can reduce the production time. If your photo frames are loose or damaged, you could use the staple gun to fix them. It is convenient and saves money to repair the frame.
Interior decoration
As long as you used the right staple gun, you can do a lot of decorating at home, such as fixing furniture, hanging decorations on the wall, fastening clothes and so on. Whether you make decorations or reinforce them, a staple gun is the best choice for those work.
How to maintain a staple gun
A staple gun can be used for life if it is well-maintained. Here are some tips to maintain the staple gun.
Clean the staple gun in time and wipe with a clean cloth.
Don't leave too much dirt and dust on the staple gun, otherwise the staples may get stuck.
If a staple gets stuck, please remove the broken staple with tweezers or little pliers from the head of the staple gun. Or open the slot to remove all staples and reinstall them.
Please store the staple gun in a dry place, because long-term storage in a wet place will seriously damage it.
Staple remover
A staple remover is a hand tool that removes heavy duty staples from the material fast without causing damage. At Tool.com, you can purchase heavy duty staple remover that is used for removing door and U shaped staples.
Constructions of a staple remover
Head
The head of the staple remover is made of alloy steel with polished, which is wear resistance and corrosion resistance and no rust. The back of the head is flat and smooth with fine workmanship, strong and durable.
Handle
The handle of the staple remover is made from TPP rubber and meets the ergonomics design that is comfortable to hold, durable and non-slip. It operates easily and save your energy from your work.