The plastering tools for sale include plastering trowel, putty knife, notched trowel, v notch trowel, margin trowel and brick trowel knife, they features different sizes from 1 inch, 2 inch ... to 6 inch, doubled sided use / single sided use, wood handle / saw material handle. Those multipurpose construction tools are made of stainless steel / high carbon steel / manganese steel. They are widely applicable for working on drywall, putty, decals, wallpaper, wallrepair, baking, spackling, patching, painting and other construction marterials as a multipurpse tool. All the finishing trowels / knives feature free shipping and factory price to buy and lightweight and flexible design to use.
1. The similarity & difference between plastering trowel and putty knife
Similarity
Both plastering trowel and putty knife are composed of a blade and a handle. Their blades are made of carbon steel, manganese steel and stainless steel, while their handles are from plastic, wood and iron materials and users can choose the suitable hand tool to work according to their requirements and working habits in building construction. Usually, people can use putty knives and plastering trowels together to mix putty.
Difference
Plastering trowel, also known as trowel, is classified as a craftsman tool, which is a hand tool for smoothing and filling the plaster; the putty knife is also known as a squeegee, and is one of the paint auxiliary tools often used by painters.
According to the shape of plastering trowel blade, trowels can be divided into flat edge trowels and toothed trowels. The toothed trowels are also divided into square tooth trowels, pointed trowels and curved teeth (also called square nothches trowels / rectangular notches trowels, V-notches trowels and U-notches trowels). The putty knife is also composed of a blade and a handle and its overall shape is triangular.
2. What is a putty knife used for?
In construction field
Putty knife is also called scraper, an indispensable hand tool in decoration aids. It is easy to use, has simple and elegant design and anti-corrosion characteristics and can be used widely for scraping and shoveling impurities, cement, white ash on the wall, removing dust, coating walls with putty and filling gaps and cracks on the wall in construction field as an indispensable and important auxiliary construction tool.
In daily life
Due to the advantages of sharpness, sturdiness, compactness, convenience and practicality, the finishing putty knife can also be used as a knife, shovel, scraper, agitator, etc. as an auxiliary tool in all aspects of life to greatly improve the efficiency of life. In our daily life, a clean putty knives are also used to make pancakes, cakes or barbecue, such as chopping, stiring food. Sanitation workers can use a sharp putty knife to solve the urban stubborn dirt on road to complete the cleaning work with less effort. It can also be used to clean up some old dirt at home. It is more labor-saving and convenient to handle and can better control the strength and scope of use.
3. The functions of teeth / notches of toothed trowels?
Pointed / V-notches trowel
It is characterized by serrations on the left and right sides of the blade or around the blade. This V-notches trowel is mainly used for laying floor tiles, such as indoor floor tiles, sidewalks, and blind roads.
Square or rectangular tooth / notches trowel
Its characteristic is that the outer edge of the blade is square or rectangular. This tooth trowel is mainly used for the laying of mosaic tiles. When the cement on the wall is evenly smoothed, neat and even square strips will appear, which is convenient for laying mosaic tiles.
Curved / U-notches trowel
Its feature is that the edge shape of the blade is square, the groove is arc-shaped, and the groove part of the square tooth trowel is also square. This kind of trowel plays a certain role in decoration projects such as wall fixing and tile sticking.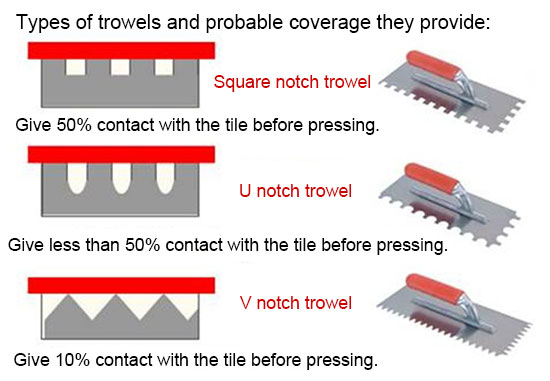 4. What size trowel for which tiles?
Some guidelines regarding the minimum trowel size to use when fixing different size tiles.
200 x 200mm tiles -use a 8mm notched trowel
250 x 250mm tiles-use a 10mm notched trowel
300 x 300mm tiles-use a 12mm notched trowel
400 x 400mm and larger size tiles -use a 12mm notched trowel + back buttering of tile
5. How much adhesion is required for tile / stone?
The standard says that the minimum contact coverage of the tile adhesive to both the tile and the substrates is as follows:
Internal residential walls- 65%
Residential floors-80%
Commercial and industrial walls-80%
Commercial and industrial floors, wet areas, external walls, decks and roofs, and swimming pools-90%
P.S. If applied force over the tile is un-even / un-uniform, 100% adhesion achieved is doubtful.