Best concrete saw for sale with good price, designed to cut the asphalt surface, concrete road surface, building material, widely used in highway and other construction projects. High operation efficiency is enhanced by powerful air cooled 4-stroke gasoline engine from Honda/ Loncin/ Robin etc. famous brand engine with 5HP to 13HP power. Walk behind concrete floor saw equipped with comfortable handle grip, easy crank for raising or lowering cutting depth. The high quality diamond cutting blade diameter available with 12"/ 14"...to 20" for selection, large water tank provides good water flow to the blade. Shop on Tool.com now!
What is a concrete saw?
The main function of concrete saw machine is to cut seams on the road surface, which is a powerful construction tool for road maintenance and construction. It is often used on cement roads and asphalt roads and the cutting depth ranging from 100mm to 200mm. It may be powered by gasoline, hydraulic or pneumatic pressure, or an electric motor. The road cutter machine uses diamond blades for cutting, which has fast cutting speed, smooth and beautiful cuts, and can cut steel bars in concrete. A hand wheel that can adjust the cutting depth is installed next to the handle of the machine. Rotate the hand wheel to raise and lower the front traveling wheel to adjust the height of the saw blade.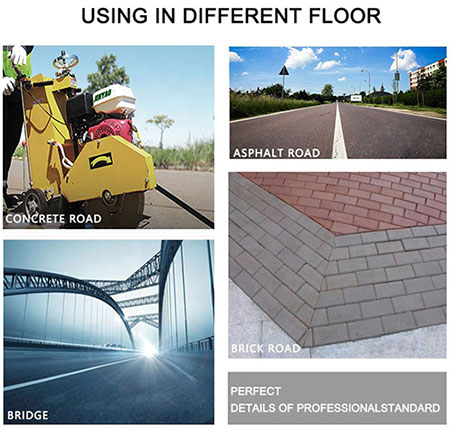 What is application of concrete cutting saw?
The concrete cutting saw is designed to provide professional cutting for municipal construction re-election, road maintenance construction, airport road cutting, communication engineering burying, floor, driveway and other on-site operations. This floor saw is mainly used to cut concrete, cement, floor and stone pavements and cut pavement shrinkage joints or damaged pavements.
What features does the concrete flooring saw have?
1. The concrete flooring saw uses diamond blades for cutting, which has fast cutting speed, smooth and beautiful cuts and can cut steel bars in concrete at the same time, features simple structure, reliable, flexible and convenient operation and durable devices.
2. Some concrete road saw cutting machine comes with a water source to spray the cutting blade so that the blade life will be longer. The unique designed 40L water tank provides adequate water supply and perfect cooling effect, no residual water and makes the maintenance easier.
3. The flooring saw has strong power, and the mobile super rigid box frame ensures straight cut, resists warping and vibration, and extends the service life of saws and blades.
4. The road cutter design conforms to ergonomic principles, the handle height can be adjusted according to human comfort, the cutting depth can be adjusted by turning the crank, the front hinged and blade protection design is convenient for blade replacement, and the rust-free water tank provides suitable water flow and water volume for the blade.