Tool Storage & Organization
Whether you are a DIY-er for simple home repair, hobbyist for craft working, or a professional for electrical, vehicle repairs and maintenance, etc., it is very essential to get your various tools well stored and organized, thus you can keep your tools at hand, organize your tools in place and also take your tools from one site to another site easily.
There are many types for tool storage and organizations, such as tool boxes, tool chest and cabinet, tool bags, tool backpacks, tool belts and aprons, etc. They are also available in various sizes from small to large, to store your hand tools, power tools, and other hardware.
Buy low price yet high quality tool boxes, tool cabinets, tool bags & backpack for your tool storage and organization at Tool.com. With various styles and sizes for selection, you can choose a most suitable one to carry your screwdrivers, wrenches, pliers, electric drill, or other various tools.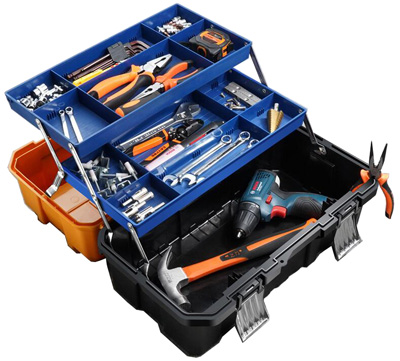 Tool Boxes
A tool box or toolbox, also called toolkit, tool chest or workbox, is a container to store, organize and protect the tools. The tool box comes in different types and sizes, from a small box for storing some small parts (small parts organizers, portable tool boxes, etc.) to a large storage system (tool chest & cabinet, mobile workbench, etc.) for holding all kinds of tools. The materials used for making toolboxes are also different.
• Materials of toolboxes
The tool boxes were made of wood in the early days, but it was very heavy and easily damaged. Nowadays, the tool boxes mainly adopts metal or plastic, stronger and lighter.
Aluminum
As aluminum is a light and strong material, it is most commonly used to make various kinds of tool boxes. The aluminum toolbox features sturdy and durable, and does not corrode, therefore it can provide good protection against moisture and rust for your tools. It is widely used in packaging industry for tool kits, jewelry, watches, instruments, meters, electronics, communications, automation, sensors, smart cards, industrial control, precision machinery, stage equipment, etc.
Steel
Steel is also a most popular toolbox material. Compared with the aluminum toolbox of the same size, the steel tool box is heavier, but it is harder and has a larger loading weight. Therefore, you can keep some heavy tools in the steel toolbox. The steel tool boxes are not easily damaged during the storing, moving or arranging the tools. In addition, the steel tool boxes are plated with special coatings for rust and corrosion resistance.
Plastic
Plastic tool boxes are very commonly seen, as well. The plastic toolboxes usually use high-quality engineering plastics with high strength and impact resistance. Compared with metal toolboxes, plastic toolboxes never corrode, but they are not as durable. They have many advantages like low cost, light weight, easy to clean, etc. The plastic tool boxes can be made in various shapes and sizes, and can come with multi compartments for easy organizations of tools. They are very suitable to store hand tools, accessories or other lightweight tools.
Wooden
Wooden toolboxes are heavy and expensive for hard wood is used to make a box or cabinet, so they are not practical in daily use, usually used for ornament.
• Types of toolboxes
There are many small portable tool boxes in the market and they are available with both metal and plastic materials. The portable tool boxes usually come with a handle on the top, a lid locked with hinges and a big compartment for tool storage. Most are also equipped with a removable tote tray inside the tool box for small parts and accessories. There are also available with portable rolling tool boxes that have trolley and wheels, making it easy to move around.
Tool chests or tool cabinets are a type of tool storage that are typically large. Some smaller rolling tool chests or cabinets are equipped with a handle and several wheels for high portability. There are also larger tool chests or cabinets with workbench, which have a plain surface at the top instead of compartments. The tool chests and cabinets are usually made from metals, and have multiple drawers or doors. They can be used for store a large number of light and heavy tools, and widely used in garage, workshop, etc.
Small parts organizers are small in size, designed for storing small parts and accessories like screws, nuts, bolts, nails, pins and so on. Generally they come with multiple compartments to keep the small items well-organized, and have transparent shell to identify what parts they are.
Tool Bags
Tool bags are also very important storage method to hold your tools together and keep them within reach. Tool bags give you great easiness, convenience, portability, and comfort to take the tools around. The tool bag is an ideal choice to store you commonly-used tools such as screwdrivers, wrenches, pliers, tape measure, cutters, etc., for regular jobs outside. Therefore, the tool bags are very useful for various tradesmen like HVAC repairmen, carpenters, construction workers, electricians, technicians, etc.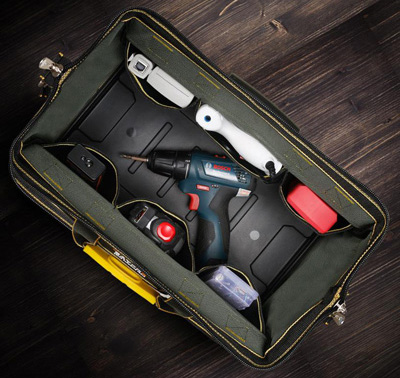 The tool bags have many styles and sizes available, such as tool tote, tool backpack, tool roll, tool belt, tool apron, and so on. They are also constructed with different materials like leather, fabric, plastic and so on.
Compared with tool boxes, tool bags have many advantages:
More lightweight, more portable, take up less space and provide more space with the malleability due to the soft material and sturdy construction.
The tool bags are made from quality materials including canvas, nylon, or polyester for durability and long lasting time.
The tool bags are usually equipped with a handle and shoulder strap, andthe shoulder strap can free both hands for using tools.
Many tool bags comes with many pockets inside and or outside for easy organization of tools.
Some tool bags have hard bottom for waterproof.
With zippers or buckles for closure, keep your tools secure in the bags.
Tool rolls are easy to unfold and roll up with many individual pockets, small and light, perfect for storing hand tools like wrenches, screwdrivers, etc.
There are also tool belts and tool aprons for great convenience to hold the tools on your body, especially suitable for those who need to use some tools at work but have nowhere to keep them, such as working on a ladder.
Which one is better? Tool boxes, tool chests, tool bags, tool backpack… This is mostly up to your application and different work requirements.