A screwdriver is a common tool, used to install and remove screws. It is available with manual screwdrivers or electric screwdrivers according the operation mode. A typical manual screwdriver is constructed with a handle and a shaft as well as an end called a tip which is used to insert the screw head before turning the handle.
Basic Screwdriver Structure
The screwdriver basically has three parts: handle, shaft and tip.
• Handle
The screwdriver handle is the part that is held and rotated by human hands. From the perspective of user experience, there are two most important points.
Ergonomic
It fits the shape of a human hand. In other words, the screwdriver tool is very handy and very comfortable to hold. Therefore, most of screwdrivers are designed with ergonomic handle.
Anti-slip
In an industrial environment, the screwdriver is easily polluted by oil, so the anti-slip design is very necessary to ensure the work efficiency.
Today, many screwdrivers on the market will change the shape of the handle, such as adding particles and grooves to the handle, so as to increase the friction coefficient to enhance the anti-slip function. In addition, adopting rubber material or other methods makes sure the screwdriver handle is anti-slip.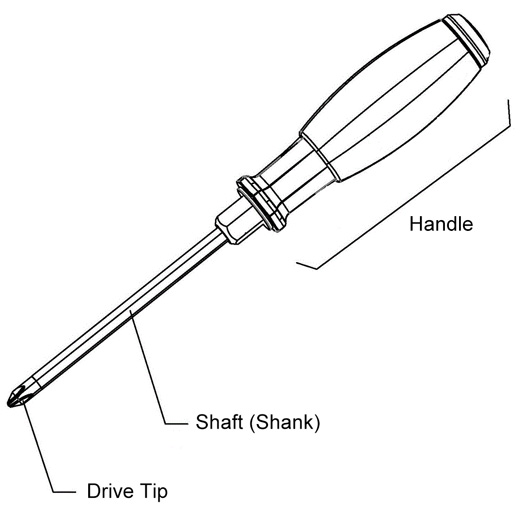 • Shaft (Shank)
The screwdriver shaft is the part of force transmission during use. There are three criteria for a good screwdriver shaft.
Have enough hardness without losing toughness.
Good impact resistance.
Good corrosion resistance.
The common screwdriver shaft uses the same chromium vanadium steel (CR-V) material as wrenches and other tools. After heat treatment, the hardness can reach HRC55-60 or more, and it has good wear resistance. Besides, some top screwdrivers will choose chromium molybdenum steel: Cr-m or S2 alloy steel as a material, all properties of which are better than chromium vanadium steel: Cr-V.
• Drive tip
The tip is the soul of a screwdriver. There are two criteria for judging the quality of the screwdriver tip.
Hardness
Like the shaft, it is best to choose the material with high hardness, good toughness and wear resistance as the tip material for the longer service life.
The coating on the tip helps extend the service life.
Precision
The precision of the screwdriver tip refers to the degree of matching with the size and width of the screw head groove.
In order to increase accuracy, it is necessary to increase the degree of matching between the bit and the screw. The common practice is that the screwdriver head is provided with plated to add friction and the degree of matching. This kind of processing method is very common. It is generally seen that the color of the screwdriver is different because of the plated treatment.
Common Screwdriver Type
With different types and sizes of tips, the screwdrivers come with a variety of shapes to fit all kinds of screw heads. There are Slotted, Phillips, Robertson, Pozidriv, Torx, Hex, Pentalobe, Tri-angle, etc. The Slotted and Phillips screwdrivers are the most commonly used in our lives, as it is must-have for installation and maintenance. It can be said that a screwdriver is used wherever there are screws. The figure as shown below are some common types of screwdrivers.
Slotted (also called flat blade, flat head, straight)

The slotted screwdriver is most commonly used hand tool, to fit the fastener with single slot head. The sizes of slotted screwdriver is described as tip width, like 3/32", 1/8", 5/32", 3/16", 7/32", 1/4", 5/16", 3/8" in SAE or 1mm, 2mm, 2.5mm, 3mm, 4mm, etc., in Metric.

Phillips (also known as cross-head)

Phillips screwdrivers are also the most popular type of hand tool. It has a cross head with angled tip to fit Phillips head screws, so it can apply more torque without slipping out from the sides. They usually come in sizes 0000, 000, 00, 0, 1, 2, 3, and 4 (in order of increasing size).

Torx

Torx screwdriver features a drive tip with a recessed six-pointed star sharp. It was designed to provide increased torque due to more contact area between the screwdriver tip and the screw head, and now it is widely used in commercial fields. Torx drive sizes ranges from T1 to T100, corresponding to 0.031" to 0.0871" (SAE) and 0.81mm to 22.13mm (Metric).

 

Security Torx

The temper-resistant security torx screwdriver has a small hole inside the star drive head. It is popular to manufacturing and security fields as it gives additional protection from unauthorized disassembling for such kind of screw head.

JIS (Japanese Industrial Standard)

The JIS screws can be found on many quality Japanese equipment. Although the Phillips screwdrivers can unscrew JIS screws, it also can damage the head. JIS screwdriver, cruciform-shape, is designed for this type of screw.

Frearson (also known as Reed and Prince)

The Frearson screwdriver looks like a Phillip at first sight, but there are some subtle changes in design. The tip of Frearson driver features a sharp point instead a rounded points of a Phillips, and has a larger angle than the Phillips, allowing for applying higher torque. It is widely used on nautical equipment.

Pozidriv

Pozidriv screwdriver is an upgrade version of Phillips with 4 more contact points. It can ensure apply more torque without camming out. Pozidriv sizes are ranging from 1 to 3, using letter "PZ" as marking.

Robertson (also known as square head)

Robertson or square head screwdrivers is actually not very common screwdrivers, but very popular in its country of origin. It is used to fit screws with a square-shaped recess with high torque.

Hex

The well-known tool for fastening or removing hexagonal-shaped screws is Allen key or wrench. The hex screwdriver has the same function but comes with a comfortable handle.

Hex Socket

The hex socket driver has a hexagonal recess instead of a blade and tip.

Tri-angle (TA)


The TA screwdriver has a triangular-shape tip for increased security, used in the toys, electronics and appliances industry.

Pentalobe

The Pentalobe screwdriver is used for disassembling five-pointed tamper-resistant screws on the Apple products.

Tri-point (also know as 3-Prong, Y-type, Y-tip)

The Tri-point driver looks like a capital letter Y, with a three-edged blade set at 120-degree angles.

Tri-wing

The Tri-wing screwdrivers features a pinwheel-like tip, and used to fit the screw heads that have triangular sockets with three wing extensions.

Spanner (also known as snake-Eyes, pig nose, drilled head)

The spanner drive has two round holes on either side of the head and is used for temper resistant purpose.

Clutch head


A clutch head screwdriver, or bow tie driver, is used to fit the screws with bow-tie-shaped slot. It is mostly found in the automobile industry.
There are many kinds of screwdrivers for different functions, including the ordinary individual screwdriver with fixed tip type, the screwdriver set with replaceable bits, the ratchet screwdriver and the electric screwdriver. So you can select a suitable one according to your own needs.
There are not too much requirements on the use of the ordinary screwdriver, but it should be noted that the material of the screwdriver shaft and tip should not be too soft, otherwise it will occur deformation when applying too much force.
The screwdriver sets vary one to another, often found that 31 in 1 screwdriver set, 47 in 1 screwdriver set, etc. The screwdriver set generally includes a screwdriver handle and a variety of bits, thus the head of screwdriver can be changeable according to the use. Screwdriver handles come in all shapes and sizes, from plastic to aluminum alloy, extendable, and ratchet.
Electric screwdriver is higher in price than the manual screwdriver, but it is much more efficient and labor-saving.
At Tool.com, you can find various types and sizes of high quality screwdrivers and screwdriver sets for you at wholesale price. The screwdrivers are made of hardened chrome-vanadium steel, high durability and corrosion resistance. With ergonomic anti-slip handle, it provides comfortable grip for long performance. The screwdrivers are also designed with magnetic tip for screw holding, very convenient to use. Shop online now!