Regardless of the weather, the outdoors is a good place to relax and take a break from the busy life. The family goes on a trip, camping or picnic, setting up a grill or smoker on the beach/garden/lawn to enjoy barbecue. People often spend too much energy to choose a grill but ignore the grilling utensils. When you want to grill perfect steaks, vegetables and delicious chicken, you absolutely need the right grilling tools, grilling accessories can enhance your experience and make grilling easier and more enjoyable. Buy barbecue tools in bulk on Tool.com, enjoy excellent quality at the best price, improve the quality of barbecue and make barbecue simple.
We wholesale high quality stainless steel outdoor grill tool sets at cheap prices. 3-piece, 5-piece, 10-piece, 18-piece, 20-piece, and more complete BBQ tool kits are available. Choosing deluxe barbecue tools means advanced barbecue. Each tool is specially designed to be easy to use and comfortable. These tools are all made of food-grade stainless steel and polished. They have metal hooks for hanging, ergonomic handles, and nylon bag/aluminum case that include storage function. Grill utensils are displayed in delicate bags or cases, equipped with Velcro and elastic bands in order. With these tools, you can flip, grill skewers, and drag food, just like a real barbecue master.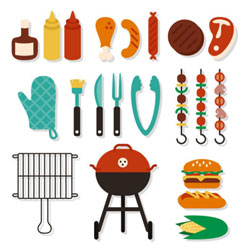 When grilling, do you wish to have a spatula or fork within reach? The complete grill tool set is the perfect barbecue gift. When deciding which grill kit best suits your needs, here are some basic tools to look for:
BBQ spatula: The spatula can be used to flip delicate foods such as fish, vegetables and burgers, and can easily transport your favorite grilled food.
BBQ tongs: One of the most basic barbecue tools, barbecue tongs can not only grab food, but also can be used to flip food during cooking.
Fork: It is convenient to fork delicious food, and can also be used to check food or check the cooking degree of meat.
BBQ brush: Dip the sauce and brush it on the meat and other food. It is recommended to use a bristle brush or a silicone brush.
Skewers: The food is skewered and placed on the grill. The stainless steel skewer can be reused during grilling to avoid waste.