The scratch remover and scratch remover kit are specialized auto repair & beauty tools. They can be used to repair the scratches of the car body paint, and even clean the oil film of the windshield.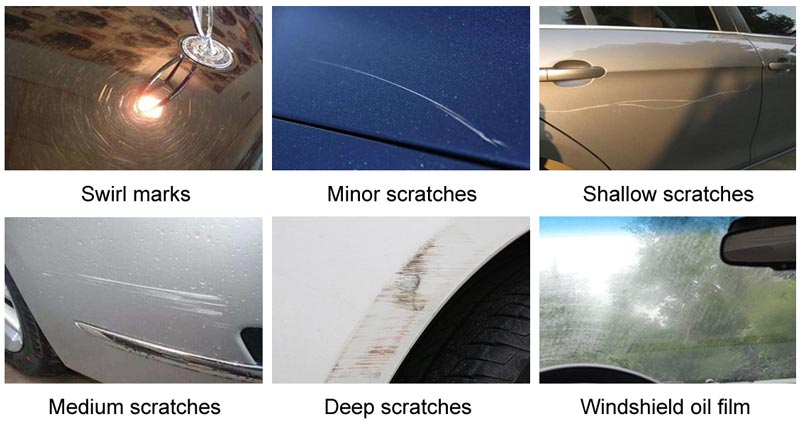 The common car scratches can be divided into the following 5 types:
Swirl marks: A large area of swirling scratches can be seen under backlight. It is very shallow and has no groove to touch.
Minor scratches: It can be seen, but there is no groove when touched with fingertips.
Shallow scratches: Touch with fingertips, there are very shallow groove marks. But no primer is exposed.
Medium scratches: There are deep groove marks when touched with fingertips, but no primer is exposed.
Deep scratches: The scratches are very deep and the primer has been exposed (Turn white or black, or metal is exposed.).
The principle of the formation of shallow scratches and medium scratches
The vehicle outer shell is made of steel plate or plastic. The car paint on the outer shell is composed of gray paint, primer/color paint and bright paint from the inside to the outside. Shallow scratches and medium scratches generally occur on the layer of the bright paint, and do not penetrate to the primer. However, the rugged scratches will produce diffuse reflection under the light, which highlights the existence of scratches.
Principles of shallow scratches and medium scratches repair
Because there is no damage to the primer, we can use the polisher to polish the rugged scratches smoothly, until there is no more diffuse reflection, and then the naked eye will not see the scratches.


If there is no scratch on the primer, we can directly polish it with a electric scratch polisher or a sponge sanding block.
If the primer or stainless steel plate can be seen, use a paint pen or spray gun to touch up the paint and then polish it carefully.
Novices can choose a sponge for manual sanding and polishing. The scratch polisher is a professional electric tool with simple operation and very fast polishing speed. It is recommended that people with polishing experience buy it, or the novice should try it in other places first, and then polish the car after the operation is proficient.