Pliers are a kind of hand tool to grip, cut, bend, and crimp materials. Whether you are a professional electrician, mechanic, DIY enthusiast or just someone for household repair, pliers are an indispensable tool in your toolbox.
At tool.com, we offer many kinds of pliers for your general and specific purposes. There are commonly-used pliers available at wholesale price including diagonal pliers, lineman's pliers or combination pliers, water pump pliers, wire stripper and crimper, locking pliers and so on. Some other special pliers or pliers sets are also provided for your specific usage, such as fishing pliers for anglers or finishermen used in freshwater and saltwater environment, 5-piece mini pliers set for jewelry making, etc. Made from high-quality alloy steel and comfortable grip handle, our pliers feature hardened, durable and rust protection. Shop pliers & pliers sets online at best price now.
Parts of Pliers
There are many types of pliers with different purpose. But they have a common basic structure, including 3 parts, the handle, the pivot point, and the head section.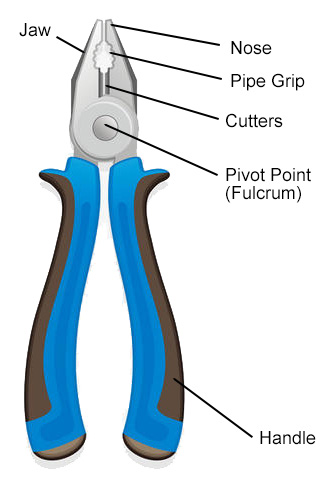 • Handle
The handle comes with a pair for holding by hand. It can be straight or curved. The surface of handle can be bare metal, or be coated with plastic. Now many pliers are designed with ergonomic handle, to provide added safe and comfortable grip at work.
• Fulcrum or Pivot Point
The pivot point is the connecting part of the handle and jaw of pliers. The pivot point provides smooth movement, not too loosening or tightening, so that the pliers can be easily opened or closed with one hand.
• Head section
The pliers head section is the main working part, including nose or jaws and cutter. The nose or jaws is generally used for gripping wires, cables, etc., and features various types such as bent-nose, needle-nose, round-nose, etc. The cutter is made very sharp and hardened for cutting wire and cables and other materials.
Working principle of Pliers
The basic working principle of pliers is to make use of two levers that are connected with a rivet in the center, and the two ends can move relative to each other. As long as one end is operated with one hand, the other end can grip the object. In order to reduce the user's force in operation, the handle of the pliers is usually longer than the head parts of the pliers based on the mechanical lever principle. In this way, a stronger holding force can be obtained with smaller manual force, allowing the pliers to grip or cut materials effectively.
When the manual force applied to the pliers handle increases with the lever ratio, the applied force of the pliers jaw produces an external force to move and hold. To generate a large external force, the distance from the center of the pliers pivot point to the handle must be as long as possible, and the distance from the gripping or cutting jaw to the center of the pivot point must be as short as possible. But many pliers are not designed in this way, because they just makes the operation in difficult areas easier.
Common Types of Pliers
• Slip joint pliers
The slip joint pliers comes with a slip joint that allows the pivot point to shift the position, so the opening width of the jaw is adjustable. The curved jaw near located near the fulcrum is used for gripping rounded objects like bolts and nuts and the serrated jaw located near the front is designed for bending the materials.
• Diagonal pliers (also known as diagonal cutting pliers, diagonal cutters, side cutting pliers, wire cutters)
Diagonal pliers that have an angled cutting edges of jaws are designed for cutting wires.
• Lineman's pliers (also known as linesman pliers)
Lineman's pliers are versatile tool for gripping, bending, twisting and cutting wires, cables or other objects. Linesman pliers have a shorter flat gripping surface and a cutting face. It is a typical pliers mostly applied in electrical work and used by linemen, electrical contractors, trademen, etc.
• Needle-nose pliers (also known as long-nose pliers)
Needle-nose pliers have elongated and pointed jaw with cutting edge near the joint point. They are very common tool for holding, bending, shaping, and cutting wire, and have wide applications in electrical, fishing, jewelry making, and network engineering.
• Tongue-and-groove pliers (also known as channel locks, water pump pliers, adjustable pliers, etc.)
Tongue-and-groove pliers also have adjustable jaw similar to slip joint pliers, but the jaw can move to a number of positions and be locked in place as required. These pliers are widely used for gripping and turning nuts and bolts, and also for gripping pipes or other irregularly shaped objects materials. The water pump pliers are often used in plumbing applications.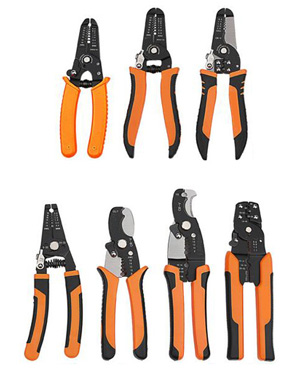 • Wire stripping and crimping pliers
These kind of pliers are a type of pliers commonly used by electrical work, motor repairs, networking and telecommunications, etc. The wire strippers and crimpers have cutting edge, stripping edge and crimping edge in the jaw, suitable for stripping plastic and rubber insulated wires and cable core wires.
• Snap ring pliers (also known as circlip pliers, C clip pliers)
Snap ring pliers are designed to install and remove the snap ring or circlips. There are internal and external snap ring pliers, which are used for internal and external circlip separately. These pliers have pointed nose, available with straight nose and bent nose.
• Locking pliers (also known as a vise-grip)
Locking pliers have the jaws that can be locked in place and are designed to firmly gripping the objects like bolts, nuts, etc. There are many shapes of jaws available, like curved jaw locking pliers, C-clamp locking pliers, etc.
• Hose clamp pliers
Hose clamp pliers are used for compressing hose and spring clamps, to enable the connection tighter. Therefore, they have a variety of designs to meet different needs. Tool.com provides you a 9-piece hose clamp pliers set for wholesale with various styles inside the tool kit, including hose clamp pliers, swivel jaw pliers, flat band pliers, Clic-R collar pliers, hose remover pliers and so on.
Characteristics of Pliers

The pliers are used to grip or bend sheet-shaped or cylindrical metal parts, cut metal wires or cables, etc. Whether the quality of pliers is good or not is related to all the aspects from the material to the production process.
Material: The commonly used materials of pliers are carbon steel, high carbon steel, chromium vanadium steel, chromium nickel steel, etc.
Forging: Using drop forging technology.
Heat treatment: Using computer-controlled heat treatment to ensure the stability of hardness.
Surface treatment: surface polishing treatment.
Features: The cutting edge is processed after a special heat treatment to maintain the stability for the long-term shearing work.
Hardness: HRC40-48.
Cutter: Meeting DIN standards.
9 Tips for Using Pliers
1. The pliers are usually operated with one hand. Use your little finger against the handle in the middle of the two pliers handles, and it helps open the pliers handle flexibly.
2. The cutter of the pliers can be used to cut the rubber or plastic insulation layer of the flexible wire.
3. The cutter of the pliers can also be used to cut wires and iron wires. When cutting No. 8 galvanized iron wire, use the cutter to cut back and forth around the surface a few times, and then only need to pull it lightly to break the wire.
4. Some of pliers like bolt cutter can also be used to cut hard metal wires such as steel wires.
5. Don't throw the pliers around to avoid damaging.
6. Do not use pliers as hammers, except the pliers with such hammer function.
7. Do not use pliers to cut double-stranded live wires, which will short-circuit.
8. Usually, the strength of the pliers is limited, so you cannot use it to operate tasks that cannot be achieved by ordinary hand strength. For example, if using smaller needle-nose pliers to bending strong bar materials, the jaws of the pliers may be damaged.
9. The pliers handle can only be held by hand, and no other methods can be used, such as hitting with a hammer, clamping with a bench vise, etc.
Usage of 90 degree angle plier
Mark the tube strip with a marker, and then cut the two sides with right-angle plier so that the tube strip can be bent to 90 degrees for use.