Wholesale price air impact wrenches and air ratchet wrenches for sale at Tool.com, we offer 1 inch, 1/2 inch, 3/4 inch and 3/8 inch air impact wrenches, 1/2 inch, 1/4 inch and 3/8 inch air ratchet wrenches for your choices. With the features of adjustable torque, ergonomic handle and forward and reverse switch, our air wrenches help you work easily and efficiently.
Our 1 inch heavy duty pneumatic impact wrenches are suitable for medium and large automotive and mechanical equipment for use in loosening or tightening lug nuts and bolts. The 3/4 inch air wrenches, such as 3/4" air impact wrench with 650 ft/lb, are perfect for small and medium automobile, motorcycle and mechanical equipment use. 3/8 inch, 1/2 inch mini air impact guns are commonly used in household and replacing tires of small cars. 3/8", 1/4' and 1/2" air ratchet wrenches can be applied for small mechanical equipment, electronic appliances, and home appliances, especially in narrow places like air conditions and refrigerator compressor. So shop our best air wrenches at favorable price online now! Of course, if you don't find the air impact with required torque, please feel free to contact us and we are happy to help you!
Features of Air Impact Wrench Parts
High performance air wrenches are constructed from high quality materiels. Tool.com offers you a wide selection of qualified air impact and air ratchet from top China suppliers. The core parts of our air impact wrenches are made from high quality material with good hardness, stable performance, high durability, and long use life.
Twin-Hammer Impact Mechanism
>>The inner parts are very important for air wrenches, which can affect user's working efficiency and its service life. The air impact on Tool.com are manily constructed with twin-hammer impact mechanism for stable performance and high durability. The inner parts of an air impact wrench generally come with a spindle, ring, cylinder, rotor, bearing and 6 blades.

Spindle. It is made of high-strength nickel-molybdenum alloy which is hardened by carburizing and quenching and processed through precision CNC with high hardness and high precision to ensure a more stable blow torque.

Rotor. Its material is from special alloy structural steel. It comes with professional heat treatment and high-precision CNC processing and provides impact fatigue resistance and high precision.

Ring. It comes from low-carbon chromium-nickel-molybdenum alloy and has carburizing and quenching heat treatment with stronger impact resistance and wear resistance.

Bearing. It is constructed with industrial-grade deep groove ball bearings with smooth rotation, wear resistance, impact resistance and long service life.

Cylinder. It features high density powder metallurgy manufacturing and vacuum quenching oil immersion treatment with precise grinding, high precision and smooth working surface, making the motor output more powerful.

Blades. They are made of new materials so that the breaking strength is increased by 50%, the thermal stability is increased by 80% and the wear resistance is good.
Diagram of Air Ratchet Wrench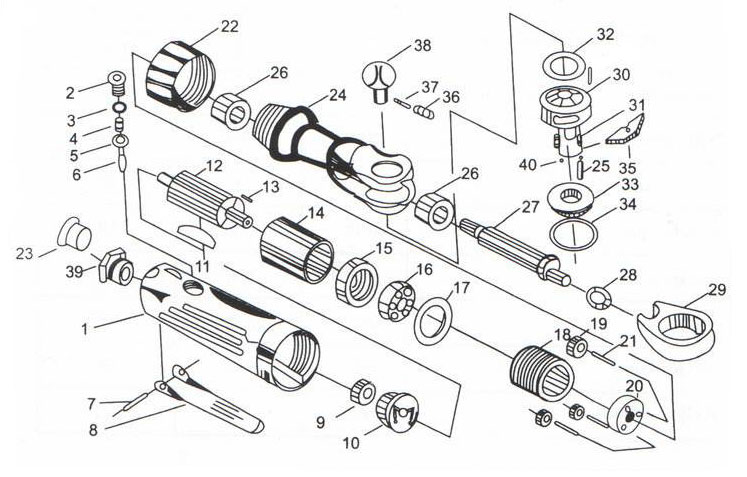 | | | | | | | | |
| --- | --- | --- | --- | --- | --- | --- | --- |
| No. | Description | No. | Description | No. | Description | No. | Description |
| 1 | Housing | 11 | Rotor Blades | 21 | Gear Pin | 31 | Steel Ball |
| 2 | Throttle Cap | 12 | Rotor | 22 | Hexagon Cap | 32 | Washer |
| 3 | O-ring | 13 | Spring Pin | 23 | Air Hose Joint | 33 | Pushing Washer |
| 4 | Spring | 14 | Cylinder | 24 | Ratchet Handle | 34 | Retaining Ring |
| 5 | Throttle Valve Plunger | 15 | Front End Plate | 25 | Spring | 35 | Spring |
| 6 | O-Ring | 16 | Front Ball Bearing | 26 | Bearing | 36 | Ratchet Pawl |
| 7 | Spring Pin | 17 | Gasket | 27 | Crank Shafe | 37 | F/R Lock Pin |
| 8 | Trigger | 18 | Gear Sleeve | 28 | Drive Bushing | 38 | F/R Bar |
| 9 | Rear Ball Bearing | 19 | Gear | 29 | Ratchet Yoke | 39 | Air Hose Joint |
| 10 | Rear End Plate | 20 | Gear Plate | 30 | Ratchet Anvil | 40 | Hard Chrome Steel Ball |
Common Troubleshooting of Air Wrench
Before repairing, assembling and disassembling the air impact wrench, be sure to cut off the gas supply.
Failure Phenomenon

Possible Reasons

Solutions

The air impact wrench does not rotate or the speed slows down and it cannot stop rotating after the trigger is released.

The air throttle or air inlet of motor is blocked by foreign matters.

Check and remove the foreign matters.

Rotor blades are worn or cracked.

Replace the rotor blades.

The gear part or the bearing is damaged.

Replace the gear or the bearing.

The throttle O-ring is worn or out of position.

Replace the throttle O-ring.

The air wrench cannot stop rotating.

The throttle O-ring is worn or out of position.

The throttle stem is bent and deformed.

Replace the throttle stem.

The motor does not rotate.

The rotor is blocked by foreign matter.

Check and remove the foreign matter.

The bearing was burnt out.

Replace the bearing.

The air pressure is too low.

Increase the air pressure to the required value.

The motor does not rotate but the exhaust volume is high.

The rotor blades are blocked.

Check and remove the foreign matter.

The motor rotor is stuck due to rust.

Remove rust and add lubricating oil.
Safety Precautions of Air Wrench
In order to enable you to use this air wrench correctly and not to be injured at work, please carefully read the following items before using it and strictly implement it as required.
The maximum use air pressure cannot exceed 10.0kg/cm².
When the pneumatic impact wrench is used for a long time, it should be avoided to directly use the quick air inlet connector.
When the air wrench is not used,be sure to turn off the air supply and unplug the tool and the air supply connector during replacing tool accessories or performing maintenance.
Please wear goggles or face protection at any time to prevent foreign matter or accidents from injuring your body during operating or replacing tool accessories.
When operating tools, do not wear jewelry, neckwear (scarves, ties, etc.), or wear loose clothing. Keep a certain distance between your body and tools to reduce the risk of entanglement.
Do not directly touch the rotating shaft to avoid injury to your hands or other parts of your body by tools. Wear gloves to protect your hands during operation.
Non-professionals cannot modify the tool structure by themselves, or replace other manufacturers' parts and accessories.
Do not leave too long air pipes in aisles or work areas to prevent staff from tripping and slipping.
Go for treatment and stop working immediately once injured at work.
Maintenance of Air Wrench
In order to keep your pneumatic wrench in good working condition for a long time, please maintain the tools according to the following items.
Use proper pressure air
Please use the air pressure in the range of 6.3-8.0kg/cm². The exhaust volume of air compressor is 520L/min and the power up to 5HP or more. If the air pressure is too low, the working efficiency of the tool will be significantly reduced or even it fails to work normally. If the air pressure is too high, its working efficiency can be improved, but it is easy to damage the internal parts and shorten the service life of the air wrench.
Use proper air pressure pipe
The inner diameter of the pneumatic pipe of the 1/2" air impact wrench must be 0.8 to 1.0cm. The longer the pipe is, the lower the pressure will be.
Use filter
The moisture, dust, rust and other foreign matter in the compressed air are the main causes of premature aging of pneumatic tool parts. Therefore, it is necessary to install a filter. The foreign matter is filtered in the air to provide clean and dry gas for air wrench. The filter must have enough flow and be cleaned frequently, otherwise it will affect normal operation due to insufficient flow. In addition, after a period of time of usage, a large amount of moisture will accumulate inside the air compressor, which must be discharged regularly to ensure that the gas is dry and increase the life of the tool.
Lubrication of air wrench
All pneumatic tools must be regularly and appropriately lubricated to ensure normal and long-term work. The correct way of lubrication is to achieve through the "three-point combination" device (water and oil grid). When the airflow passes through the water and oil grid, it will atomize the lubricating oil in the oil tank and send it into the tool inside to lubricate the relevant parts and reduce the wear rate of the parts. The water and oil grid device should be as close as possible to the tool air inlet.
The choice of lubricant is also very important. Using incorrect lubricating oil will cause damage to the tools. Generally, there are special lubricating oil for air wrench tools, such as spindle oil, sewing machine oil or SEA 5 lubricating oil. Concentrated oil is strictly prohibited.
If there is no water and oil grid device for the moment, drip 3-4 drops of lubricating oil from the air inlet of the tool before each work, or unscrew the screw at the pre-designed lubricating hole of the tool, fill in the lubricating oil and then lock it.
For air wrenches with hammering rotation, user should check whether the lubricating oil in the hammering part is sufficient every month and use SEA 30 lubricating oil for lubrication.
Note: If the pneumatic impact wrench tools suffer from insufficient torque, no rotation and impact force, etc. during use, please check and troubleshoot item by item according to the above instructions.