Bench drill press is a type of small vertical drilling machine, which is used to workpiece processing or drilling, its structure is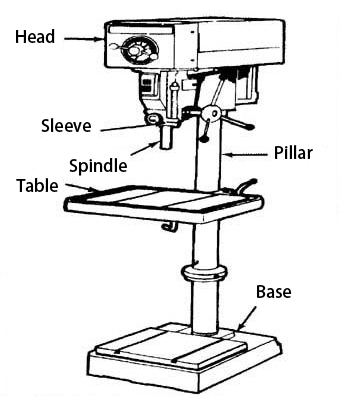 similar to pillar drill. It is also called table drill press, pedestal drill. In addition to metal drilling, bench drill press can also be used for woodworking, and is widely used in industry/commercial/home. Specific applications include drilling, reaming, tapping, scraping planes, milling, DIY, etc. Bench drill press stand can raise and lower, easy for adjustment. With small size, bench drill press is portable and can be placed on table or floor without taking too much space.
Bench Drill Press Structure
Bench drill press is usually driven by a motor. Main components include base, column (or pillar), adjustable workbench, spindle, chuck and drill bit. Some portable drill press have a magnetic base. The head usually has 3 handles radiating from the central hub. These handles can be rotated to move spindle and chuck vertically. The size of bench drill press is usually measured by "swing". This "swing" can be obtained by calculating twice the distance from the center of chuck to the nearest edge of pillar. Therefore, a machine with a distance of 4 inches between the center of chuck and the edge of pillar is called an 8-inch bench drill press.
Bench Drill Press Types
Bench drill press is mainly divided into 2 types: hand feed and power feed. Other types of drilling machines, such as radial drill press, CNC drill press, multi-axis drill press, wheel drill press, and turret drill press, are all variants of hand feed and power feed drilling machines.
Hand-feed drill press is the most common type of drill press. Its structure is simple, it is a light machine, and the feed handle is used for hand feeding during operation. In this way, operator can feel and control the movement of drilling tool when it cuts into the workpiece. This type of drilling machine can be installed on a table or floor, driven by a motor. The transmission belt on motor pulley is rotated by the motor, which is connected with spindle pulley. Hand feed drilling machine is essentially a high-speed machine, used in small workplaces that need to drill holes of 1/2 inch or smaller. Loosen the locking bolts to move the machine head up and down on column. It allows bench drill press to complete drilling at different working heights. As shown in the following figure.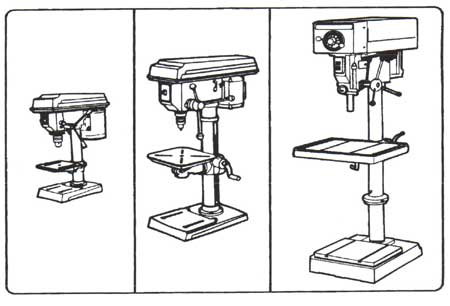 Power-feed drill press is usually larger and heavier than hand-feed type. It can automatically feed the drilling tool into workpiece at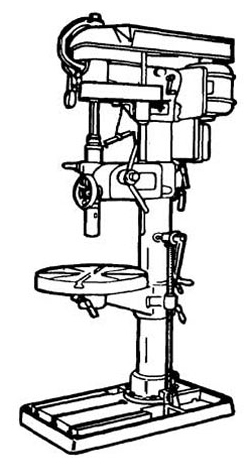 a preset cutting depth per spindle revolution. Power-feed drill press is commonly used in maintenance workshops for medium and large drilling operations. When drilling or cutting the diameter exceeds 1/2 inch, the power supply function is required. For power feeders, the available speed varies from approximately 50 rpm to 1,800 rpm.
The center drilling capacity of power-feed drill press usually ranges from 17 inch to 22 inch. It can handle drill bits with diameter ≤ 2 inch. In larger workplaces, T-bolts and clamps are usually used to fix the drill press directly on table or base. In small workplaces, it is usually fixed with a vise. The depth stop mechanism facilitates precise drilling and is located on the machine head close to spindle. As shown in the left figure.
Bench Drill Press Advantages
The amount of work required for drilling is small. By operating the lever on rack and pinion, chuck and spindle can be moved easily, which provides considerable mechanical advantages.
The table makes it possible to use a vise or clamp for positioning and restraint during operation, thereby ensuring safety.
The angle of spindle relative to worktable is constant, so that drilling accuracy can be improved.
Compared with hand-held drilling machines, bench drill press needs a more powerful motor. In this way, a larger drill bit can be used, and even a smaller drill bit can speed up the drilling speed.
We provide best drill press with lowest price. Power 375W/550W/750W/1000W/1200W for selection, drilling diameter 13mm/16mm/25mm. Drill machine price is competitive, all the machines are variable speed drill press: 5-speed, 12-speed, 16-speed. Models of 750W and above have laser positioning function.