Tweezers are common hand tools for picking and gripping small objects such as medicine, metal particles, hairs, spines and so on. The tweezers are composed of two levers, one end of which is fixed as the fulcrum and the other end is movable for gripping the items.
Types
Tweezers have various tip shapes and sizes.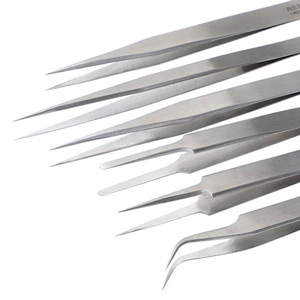 Blunt tweezers come with rounded tips, suitable for bending, separating and removing small items. The rounded tip make this type safer at use.
Flat-tip tweezers have smooth, flat and no scratch ends as its name shows.
Pointed tip tweezers feature needle-like tips. With fine, thin tips, this kind of tweezers is ideal for precision tweezing.
Triangular tweezers have large and wide tips that can be used to pick up large objects.
Tweezers with curved tips are also available.
Tweezers also come in various types for different applications including beauty industry (hair removal), electronics, semiconductor, medicine, science, laboratory, stamp and coin collections, etc.
Optical tweezers are formed by light and make use of light to handle the microscopic objects as small as individual atoms, which are based on the principle of optical radiation pressure.
Bamboo tweezers are made from bamboo. The biggest feature of bamboo tweezers is that it will not scratch the work piece like stainless steel tweezers, and it is more resistant to organic solvents than plastic or fiber tweezers. Bamboo tweezers are cheap yet good, which is the first choice for electronic manufacturing industries such as wafers, quartz and chips. In addition, bamboo tweezers are also anti-static, because bamboo is not easy to be charged with static electricity. It is non-magnetic, excellent in insulation, and will not damage the items.
Medical tweezers belong to forceps, one of commonly-used surgical and medical equipment.
Wafer tweezers are designed for precise silicon wafers. Wafer tweezers have wide tips with rubber covered, allowing it to grab the wafer without scratch, more safely and reliably.
ESD tweezers are made of a special conductive plastic material, suitable for precision electronic components production, semiconductor and computer magnetic head industry, or other processing and installation of electrostatic sensitive components.
Tweezers Working Principle
Tweezers work based on the principle of leverage, but whether the tweezers is a labor-saving lever or a laborious lever. In terms of the length of the resistance arm, the tweezers are laborious levers, because the resisting arm of the tweezers is larger than the power arm. Although tweezers are laborious levers, they are widely used in most fields such as medicine and industrial scientific research, etc.
The schematic diagram of force lever of tweezers is shown as below (see Figure 1).
As Figure 2 shown above, it illustrate why tweezers are laborious levers. According to the principle of leverage: F1L1=F2L2. When using tweezers, the power arm L1 is shorter than the resistance arm L2, and the power arm F1 is greater than the resistance arm F2, so the tweezers are laborious levers.
Tool.com provides a series of stainless steel precision tweezers set with a variety of tip shapes and styles to meet your different needs. The ESD anti-static tweezers are also available at high quality and low price. In addition, a pack of craft tweezers can be found here for your hobby, jewelry making, electronic assembly, etc. Get best tweezers for you now!