Seedling raising with plant trays is a kind of factory seedling raising method that utilizes advanced facilities, equipment and management technology to place different growth stages of garden seedlings in the optimal environment under manual control, give full play to the potential of seedling growth and cultivate excellent strong seedlings with high speed and high quality. Any kind of plant that can be transplanted by raising seedlings can adopt the method of seed trays raising. The method of growing seedlings with growing trays is particularly suitable for vegetable seedlings with weak root systems, poor regeneration ability and short seedling age. Seedlings cultivated with plant starter trays have root lumps that are quadrangular pyramids with large top and small bottom, so they are also called "plug seedlings". The seedlings cultivated by the sprouting trays have the advantages of short seedling age, neat seedlings, robustness, no diseases and insect pests, and quick return of seedlings after planting. The seed starting trays can be used for centralized seedling cultivation and unified management, and the seedling period is not restricted by the environment, which can not only grow seedlings in large quantities, but also save labor.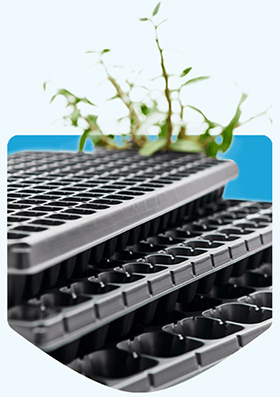 The facilities for plug seedling raising mainly include precision seeder, seed pelletizing machine, seedling tray, seeding room, germination room and greening room. Simple garden seedlings only need a seedling tray (equivalent to a nutrient bowl in general seedlings) and heat preservation, moisturizing facilities. The commonly used seedling tray is a plastic plant tray with a length of about 55 cm, a width of about 28 cm and a height of about 5.5 cm. According to the size of the holes, there are 15 holes, 72 holes, 128 holes, 288 holes and many other specifications. They are also included in the garden tools we have for sale, and we provide thicknesses of 0.5mm, 0.6mm, 0.7mm, 0.8mm, 0.9mm, 1.0mm, etc. Different vegetable types can use the seedling trays of corresponding specifications, such as the 128-hole seedling trays for leafy vegetables and cauliflower vegetables, and the 72-hole seed trays for solanaceous fruits.
The strict operation process of seed raising includes several stages such as preparation before sowing, sowing, accelerating bud, greening into seedling, etc., each stage is connected and different management methods are adopted at different stages. Let's take tomato seedlings as an example to illustrate the operation process of the garden seedling trays. The first is the preparation before sowing, including seed growing trays cleaning, disinfection, seed treatment (seed disinfection and pelletization), and substrate preparation. Then enter the seeding workshop and carry out precision seeding on precision seeding machine. The seeding process includes soil filling (matrix), caving, seeding, covering and watering. Then enter the germination room for germination, and keep the room temperature at about 28℃ and humidity above 90%. The tomato seeds will emerge after about 2 to 3 days. When about 80% of the seeds emerge from the top soil, move the plant trays into the greening room to allow the seedlings to receive light while controlling the temperature to about 25℃. This will not only maintain the continuous emergence, but also prevent blind growth. When the tomato seedlings are all out, the seedling stage management is carried out. The temperature of the green room is controlled at about 25℃ in the day and 15℃ at night, and the substrate is kept moist. The seedlings are tempered 7-10 days before transplanting to adapt to the field environment.
Buy 50pcs and 100 pieces plant growing trays on Tool.com now to make your garden seedling work more labor-saving and more successful.