Buy multi-purpose aluminium ladders at wholesale price, which are made of high quality and durable aluminium alloy with clean-touch anodized finish to ensure each section expands and retracts safely. 8.5 ft/ 9.5 ft... to 15.5 ft telescoping extension ladders are provided, bearing weight capacity up to 330 lbs, compact size makes them easy to transport and save storage space. 3 steps/ 4 steps/ 5 steps/ 6 steps folding ladder with comfortable standing flatform are also available here, can be folded down to an ultra-flat size. Our multi function aluminium ladders perfect for both indoor and outdoor use.
Aluminium ladder
The aluminum alloy ladder can be stretched and shortened like a fishing rod. The shortened length is about 0.7-1 meters, and the stretched height can reach about 2-5 meters. The weight of the aluminum alloy ladder is only about 6-21 kg, and it can bear about 150 kg when climbing. The aluminum ladder is very convenient to carry and store, and can be placed in the family closet, study, under the bed or in the trunk of the car. Ultra-light weight, ultra-short height, ultra-strong safety, user-friendly design, and beautiful appearance make this product sell well all over the world, such as homes, hotels, shopping malls, enterprises, power telecommunications, urban construction, public security fire protection , heating and gas supply, gardening and other departments are ideal for high-altitude operations. It is also a necessary climbing construction tool for all kinds of emergency vehicles, line inspection vehicles, command vehicles and other vehicles in field operations.
Features of aluminium ladder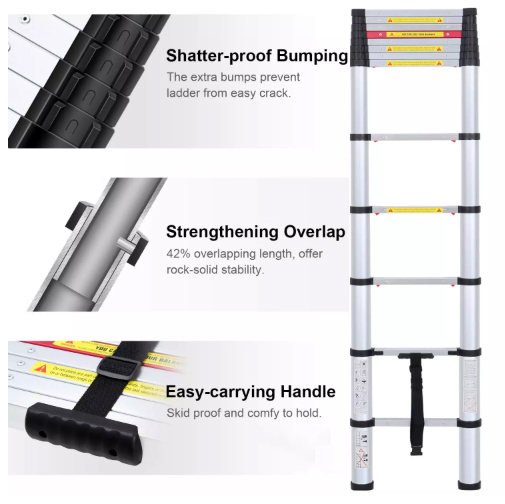 Use high-quality high-strength aluminum alloy material with non-slip stripes.
The ladder foot sheath is made of high-hard composite rubber, which is non-slip and wear-resistant.
The connection between the stepping rod and the straight rod adopts the "d" shape extrusion riveting strengthening process, which is extremely resistant to stepping.
The upper and lower ladders are combined, and the upper and lower ladders are raised to the required height with the help of lifting hooks, pulley blocks, and pull ropes.
Diagonal braces strengthen the stability of the ladder and can be folded for easy transportation.
The ladder foot and balance frame are detachable, easy to transport and move.
The top of the ladder adopts a detachable device, which can be divided into two into two single ladders.
The lifting rope adopts a rotary pulley structure, which can be raised and lowered freely.
High strength, easy to use and safe.
3 types of aluminum telescoping ladder
Telescopic single ladder. This kind of ladder cannot be used as a herringbone ladder. Common sizes are: 2 meters, 2.6 meters, 2.9 meters, 3.2 meters, 3.8 meters.
Telescoping joint ladder. This kind of ladder can be used as a single and herringbone ladder. When used as a herringbone ladder, the height is half that of a single ladder. This ladder is called a joint ladder because it has a joint in the middle. The effect of a herringbone ladder or a single ladder is achieved by adjusting the joints. Common sizes are 3.2 meters, 3.8 meters, and 5 meters. This size is the size when making a single ladder. When making a herringbone ladder, it must be folded in half, which is 1.6 meters, 1.9 meters, and 2.5 meters.
Telescoping herringbone ladder. This kind of ladder is basically used as a herringbone ladder, which is combined by two single units, that is, the tops of the two single ladders are connected by hinges. It cannot be used as a single ladder after pulling two single ladders to 180 degrees like a joint ladder. The common sizes of telescopic herringbone ladders are 2 meters, 2.6 meters, 2.9 meters, 3.2 meters, and 3.8 meters. The aluminum alloy telescopic ladder is simple to use, not complicated, and light and practical.
How to choose the right aluminium ladder?
Select the type of ladder
The first step in choosing a right aluminium ladder is to choose the right type for the job. Different types of ladders are designed to ensure safety and work efficiency when climbing or standing. Using the wrong type of ladder or ignoring the limitations of climbing equipment will cause overturning or serious injury. Many users only know the basic single-sided ladder or extension ladders, in fact, there are many types of ladders, such as platform ladders, double-sided ladders, telescopic composite ladders, multifunctional ladders, three-legged ladders and other types of ladders.
Choose the height of the ladder
Choosing the right size or length of aluminium ladder is just as important as choosing the type of ladder. The most common potential mistake in choosing a folding ladder is to buy one that is too short or too long. The extension aluminium ladder must be 2.13-3.05m above the highest support or contact point (which may be a wall or roof line) so that there is sufficient length to erect correctly. Do not stand on treadles above support points or roof lines. The highest standing position on the single/double ladder is the second step down from the roof. You may lose your balance and fall if you stand or sit on the roof or on the first pedal under the roof. The highest safe touch height a person can reach is about 1.22m higher than the height of the ladder. For example, a 2.4m high ceiling can be safely reached on a 1.22m folding ladder.
Select the load on the ladder
Aluminium ladders shall be designed and manufactured to carry a specified weight safely. There are five different load levels for the safety ladder, identified by their respective levels and types. The load rating is the maximum safe load on the ladder. The weight of the well-dressed man plus any tools and materials placed on the ladder must be less than the load level. 
Ladders should also be suitable for different occasions. For example, aluminium foldable ladders frequently used on construction sites must be exceptionally strong and the corresponding load level of the ladder should be higher than the total weight of the ladder. Workers should consider the weight of materials to be placed on ladders and in workplace applications, and choose suitable ladders that can be used for the intended purpose. Terms such as ladder class, load class, and type may initially cause confusion for some customers. Remember that the load rating is the maximum safe load on the ladder. For example, type IA rated load 136kg, super heavy ladder for high load professional occasions, the total weight of the ladder shall not exceed 136kg.
Choose the material for the ladder
The final step in choosing the right ladder is to choose the right material. Common are glass reinforced plastic ladder and aluminum alloy ladder. The properties of each material are suitable for certain occasions and cannot be selected solely on the basis of the user's personal preference. Glass reinforced plastic ladder is also called insulation ladder, and has good corrosion resistance, usually used in electric occasions or the environment is relatively bad. Aluminium alloy ladders are light in weight and are usually used in non-electrified working situations. Make sure users choose ladders of the right material for general or specific use. For example, whether we are exposed to electric currents or other hazardous conditions, including exposure to certain chemicals or open storage, is largely the basis of our choice of ladder materials.
Why choose aluminium ladder?
Aluminium ladder has a variety of shapes. Opening the folding ladder, it can becomes "M"; "N" and "A" shape.
It is easy to store, does not take up space, and can be placed in the corner. The advantage is that its does not affect walking.
Aluminium ladder resists to high temperatures and oxidation, with strong connectors, reinforced rivets, press reinforced and strong overall load-bearing.
It has deep-grained ladder feet, strong grip, high friction, stable and non-slip. In addition, it will not damage the floor.
12 tips for using an aluminium ladder
Ensure that all rivets, bolts, nuts and moving parts are tightly connected, the ladder column and step are firm and reliable, and the extension circlip and hinge are in good working condition.
The aluminium ladder is kept clean, free of grease, oil, wet paint, mud, snow and other slippery substances.
The operator's shoes are kept clean, and leather-soled shoes are prohibited.
Do not use ladders when you are tired, taking drugs, drinking alcohol, or having physical disabilities.
The ladder should be placed on a firm and stable ground, and it is forbidden to be placed on ice, snow or slippery ground without anti-skid and fixed equipment.
It is forbidden to exceed the marked maximum load-bearing mass during operation of the telescopic ladder.
It is forbidden to use telescopic ladders in strong winds.
The iron telescopic ladder is conductive, avoiding close to live places.
When climbing, the person faces the telescopic ladder, grasps with both hands, and keeps the center of gravity in the center of the two ladder columns.
Do not stand on the steps within 1 meter from the top of the telescopic ladder during operation, always keep a safety height of 1 meter, let alone climb the highest support point at the top.
Do not exceed the top of your head with your hands during work, so as not to lose your balance and cause danger.
It is prohibited to cross directly from one side of the telescopic ladder to the other side.