If you're looking for high quality air tools & pneumatic equipment at low prices, Tool.com store is your best choice. A wide range of cheap pneumatic tools for sales here, such as Air Screwdriver, Air Sanders, Air Wrench, Air Drill, Air Spray Gun etc for selection. we're confident that you'll find a right air tool to get your job done. Browse our air tool products and shop with us now.
Air screwdriver is a powerful pneumatic tool that uses compressed air as power to tighten and loosen screws and nuts. It is mainly used for various assembly operations. Some pneumatic screwdrivers are equipped with devices for adjusting and limiting torque, which are called fully automatic adjustable torque air screwdriver. Some do not have the above adjustment devices, but only use the switch knob to adjust the amount of air intake to control the speed or torque, which is called semi-automatic non-adjustable torque air screwdriver. Its structure consists of a pneumatic motor, a hammering device or a deceleration device. Because of its fast speed, high efficiency and low temperature rise features, it has become an indispensable tool in the assembly industry.
Why you need an air sander? Air sander is a kind of air tool that uses compressed air to drive orbital sanding discs, drums and belts. The air pressure is usually controlled by pressing the trigger or pressing the button on the air sander. Pneumatic sander can be used to remove old paint and rust on metal, and smooth welding joints. Some air sanders are used for more delicate tasks such as trimming and leveling wooden tables. Orbital air polishers are lighter than belt sanders, and are ideal for edge navigation and smooth fine surfaces. Using a pneumatic sander instead of other electric or manual tools can significantly reduce the time and effort required for construction and manufacturing work.
An air pop riveter is powered by air used for driving rivets in place without too much manual effort. Riveting is a more cost-effective way for fastening items, especially some objects of which back is out of sight. The pneumatic rivet gun is applied to fasten from sheet metals to pipes in manufacturing industries. It is as well as widely used in home decoration, luggage production, automobile manufacture, and electrical appliance assembly among other things. The pneumatic riveter appears in order to solve problems that the welding nut to fix metal sheets and thin pipes is easy to melt and screw thread is easy to slip. It is not only high efficiency but also convenient to use.
Air wrench is an air tool that provides high torque output with minimum consumption. Through the continuous source of power so that a certain mass of the object accelerated rotation, and then the moment of impact on the output axis, so as to obtain a relatively large torque output. It can be precisely set different torque that helps you finish fastening and loosing nuts and bolts. The operation of pneumatic impact wrench is quiet, which reduce damage to tools and sockets. It allows you to operate safely and comfortably. Air torque wrenches provide precise torque control with sensors and solenoid valve switch. Feature of small size, light weight and large output power per unit weight, pneumatic torque wrench can achieve the advantages of large torque output, small reaction force, small environmental pollution and cheap price.
Pneumatic angle grinder is a commonly used pneumatic hand-held cutting and grinding air tool. The motor is driven by air, and the high-speed operation of the bevel gear drives the grinding wheel to operate, so that the high-speed running sheet grinding wheel is used to grind, cut, rust, and polish the metal. Pneumatic air grinder adopts ergonomic design, small size and light weight, easy to work without fatigue. The overall eccentric shaft has a stable speed, high speed, low vibration and high work efficiency. The cylinder of the pneumatic grinder has undergone a wear-resistant hard film surface treatment, which has low noise and longer service life. The central vacuum type, with the patented diversion function, can exert a powerful vacuuming ability without causing dust to fly or clogging the vacuum tube.
What Are the Advantages of Air Tools?
The air is easy to obtain, and the working pressure is light, the used air can be discharged at the working spot, no need to prepare recycle pipelines.
The air viscosity is small and the flow resistance loss is small, which is convenient for centralized air supply and long-distance transportation.
High speed of air tool actuator.
The pneumatic system has strong adaptability to the environment, ad can work reliably in a wide temperature range, humid and dusty environments, a slight leakage will not pollute the environment, and there will no danger of fire and explosion or safety problems happen.
Simple structure, convenient maintenance, low cost.
Long service life of pneumatic components.
How to Operate Pneumatic Tool Safely?
Do not exceed the maximum operating pressure (100PSI/ 7.0BAR/ 7.0kg/CM²) when using air tools.
Often making pneumatic tools work in an environment that exceeds operating pressure will greatly reduce the service life of the tool itself.
Please remove the pneumatic tool from the air source when replacing tools or accessories.
The staff should wear goggles, earplugs, and masks as possible during operation to maintain their own safety.
Do not wear loose outfit, scarves, ties or bracelets during operation to avoid being caught by moving or rotating parts and causing danger.
When air tool is connected to the high-pressure air source, do not press the trigger when not in use.
Ensure the condition of spare parts at any time, loose spare parts can cause serious danger.
Please use special parts to replace worn parts.
Do not use damaged air pressure pipes.
Never let the tool point at yourself or others.
Before use, check whether the air pressure pipe is fragile or damaged. If the above situation is found, please replace it immediately to ensure safety.
Tighten all nuts and screws, and make sure all equipment is in a safe state.
Maintenance of Air Tools
To complete each processing or assembly task, equipping the right tools is needed firstly. Hardware tools can't be used without maintenance. That will reduce the service life of hardware tools. So next, it is the illustration of the use and maintenance of air screwdrivers in air tools. Air screwdrivers are mainly used in tightening and assembly. Automobile manufacturing, electronics, home appliances, auto parts production, equipment maintenance, and aerospace are all major industries for their applications. Precision, reliability, and durability are the functional measurement standards of air screwdrivers. The quality of rotary air tools depends on six aspects: 1. The performance of the built-in pneumatic motor (rotational power); ⒉ The metal materials and processing methods used in the transmission mechanism parts; ⒊ The processing precision of the parts and the assembly precision of the tools; ⒋ The innovation, optimization and improvement of tool design and production; ⒌ Quality Control; ⒍ Appropriate and reasonable use.
For most pneumatic tools, the maintenance method is as follows:
Correct air supply system: the inlet pressure at the tool inlet (not the outlet pressure of the air compressor) is generally 90 PSIG (6.2Kg/cm2), too high or too low will damage the performance and life of the tool. The air intlet must contain sufficient lubricating oil so that the pneumatic motor in the tool can be fully lubricated (A piece of white paper can be placed on the exhaust of the tool to check for oil stains, normal oil stains are present). The air inlet must be free of moisture. It is not appropriate if the compressed air is not supplied with an air dryer.
Do not arbitrarily remove the parts of the tool and then operate, except that it will affect the safety of the operator and cause the tool to be damaged. .If the tool is slightly faulty or cannot achieve the original function after use, it can no longer be used, and it must be checked immediately.
Regularly (approximately once a week) check and maintain the tools, add grease to the bearing and other rotating parts, and add oil to the air motor part.
When using all kinds of tools, it has to be sure to follow various safety regulations and instructions.
Use appropriate tools to operate. Tools that are too large can easily cause work injuries, and tools that are too small can cause tool damage.
☛ More Info About Air Tools
Air tool is mainly a tool that uses compressed air to drive a pneumatic motor to output kinetic energy to the outside. General pneumatic tools are mainly composed of power output part, operation form conversion part, inlet and exhaust part, operation start and stop control part, tool housing and etc. Of course, the operation of air tool must also have energy supply parts, air filtration and air pressure adjustment parts and tool accessories.
Power output part: It is one of the main components of air tools, mainly composed of air motor and power output gear. It relies on high-pressure compressed air to blow the motor blades to make the motor rotate, start to output rotational movement to the outside, and pass the gear drive the entire operation from to transform part of the movement. According to whether the stator and rotor are concentric, air motors can be divided into concentric motors and eccentric motors. On the basic of the number of air inlets, they can be mainly divided into single air inlet motors, double air inlet motors and multiple air inlet motors. No matter what kind of air motor, it relies on compressed air to below the motor blades to drive the rotor to rotate. When the motor blades rotate at high speed, they always rub against the inner wall of the stator. It is the most common vulnerable part in the motor. Therefore, it has highly requested for the quality of compressed air and whether the compressed air contains lubricating oil molecules.
Work form conversion part: It mainly converts the rotation motion output by the motor correspondingly. In the automobile manufacturing industry, due to the many ways of threaded connection, most of them are rotary motion, of course, they are also linear reciprocating motions. For different types of pneumatic tools, the operation form conversion part is mainly divided into mechanical clutches and planetary gear sets, hydraulic cylinders, torsion bears and hammer block sets. The above component are all important components based on rotational motion, which determine the torque, speed, and tightening accuracy of the pneumatic tightening tool. Due to its constant clutch, pressure or torque change, its component parts vulnerable to damage.
Inlet and exhaust part: Obviously, the inlet and exhaust path are related channels for compressed air to enter and exit, and are the energy supply system that guarantees the normal movement of the motor.
The movement start and stop control part: That is the generally mentioned pneumatic switch, is prone to damage due to its direct contact with the operator and external objects at all times and many engineering plastic products.
Energy supply part: Compressed air is mainly formed by air compressors compressing the atmosphere, and is transported by compressed air pipelines t related gas and electricity, and is pulsating.
Air filtration and air pressure adjustment part: Since compressed air is usually transported through pipes made of seamless steel pipes, during long-term using, the rust on the inner wall, moisture and dust in the compressed air will continue to form. If such compressed air directly enters the air motor without any treatment, the life of the motor will be greatly shortened, resulting in in sufficient power output of the entire tool and unstable, which may cause damage to the motor and other parts, for this, between the compressed air transported by the pipeline and the pneumatic tools, compressed air filtering and regulating devices must be installed, and the pneumatic triplex undertakes this task. Pneumatic triple parts are mainly composed of barometers, filters, lubricators, pressure regulators and etc. the filter element is built-in in the filter, which should be maintained and cleaned and replaced regularly after a period of use.
Air Tools vs. Power Tools
★ Working ability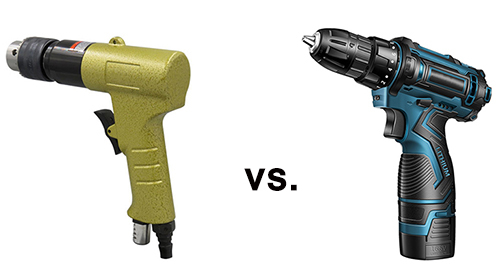 Pneumatic tools and electric tools provide a variety of different working methods, such as: rotation, reciprocating, swing, impact, etc.
Both speed adjustment and output power adjustment are simple. It can be done by operating the air supply valve handle and adjusting the regulating valve.
Air tools can provide more levels of choice in the speed range, from 100rpm to 70,000rpm.
The two tools are very similar in appearance, but with the same output power, the pneumatic tool is lighter than the power tool.
There is no heating and overload failure. Pneumatic tools are more suitable for working for a long time without heat generation. Even if the compressed air engine is overloaded, the tool just stops rotating. Once the overload is removed, it will resume normal operation, which will have no effect on the tool. Any failure will occur.
In terms of reciprocating motion, pneumatic tools use piston motion, while electric tools use cam conversion. In contrast, pneumatic tools have more advantages.
★ Environmental adaptability
Air tools have strong water resistance. Although water immersion has an impact on the use of tools, it is not as deadly as power tools. And because it does not produce electric sparks, even if it is used in places with explosion hazard, there will be no possibility of ignition and explosion. It is more suitable for use in coal mines, oil fields and other posts.
Pneumatic tools can work in various bad or harsh environments, but maintenance work (dust removal, water removal, oiling, etc.) must be done. Air tools can use internal combustion engine air pumps, so they are more suitable for field work. Pneumatic tools can work for a long time and are suitable for large-scale production lines.
★ Economical
Power tools cost less investment in the initial stage, but consume more energy in the long run, and the cost of tool maintenance and replacement is also higher.
The initial investment of pneumatic tools requires the establishment of pneumatic pipeline equipment, but the long-term use of energy consumption and tool maintenance costs lower.
The weight of electric tools is generally 3 to 4 times that of pneumatic tools, which is not suitable for long-time work, and pneumatic tools can improve work efficiency.