Favorable price air rivet gun & air rivet nut gun for sale, the best fastening air tool for various manufacturing industries. At Tool.com, we provide pistol type air powered rivet gun, air pop rivet gun, pneumatic pop riveter, industrial pneumatic rivet gun, heavy duty air hydraulic riveter, etc., 1/4 inch air inlet, 3/8 inch air hose, used in 3/32" (2.4mm), 1/8" (3.2mm), 5/32" (4.0mm), 3/16" (4.8mm), 1/4" (6.4mm) aluminum blind rivets and stainless steel rivets. Pneumatic rivet nut guns on our online shop can attach M3, M4, M5, M6, M8, M10, M12 threaded size nutserts to work. Buy different kinds of pneumatic riveter & rivet nut tool online now!
What is an air rivet gun?
An air pop riveter is powered by air used for driving rivets in place without too much manual effort. Riveting is a more cost-effective way for fastening items, especially some objects of which back is out of sight. The pneumatic rivet gun is applied to fasten from sheet metals to pipes in manufacturing industries. It is as well as widely used for home decoration, luggage production, automobile manufacture, and electrical appliance assembly among other things. The pneumatic riveter appears in order to solve problems that the welding nut to fix metal sheets and thin pipes is easy to melt and screw thread is easy to slip. It is not only high efficiency but also convenient to use.
Different types of air powered rivet gun we offer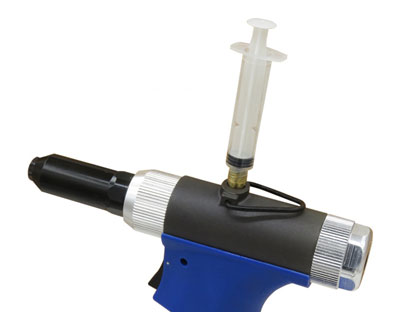 Standard pistol type pneumatic rivet gun, automatic suction pistol type air rivet gun and double cylinder air riveter for sale are provided at Tool.com. The pistol type air riveter has an ergonomic pistol grip that is comfortable to hold. It is an useful tool for home decoration and furniture maintenance. The nozzle of the air riveter is 3/16" (4.8mm), and 3/32" (2.4mm), 1/8" (3.2mm) and 5/32" (4.0mm) nozzles are installed under the handle. You can replace the nosepiece according to what you need.
Industrial pneumatic riveter
Our best industrial pneumatic riveter has an oil filling port in which fill oil conveniently. It fits for 1/8", 5/32", 3/16" aluminum rivets and steel rivets. The pneumatic riveter constructs with air hydraulic cylinder, 1/4" air inlet and rotary universal joint, which perfectly help you finish riveting work.
Heavy duty air hydraulic rivet gun
Heavy duty air riveters at Tool.com are suitable for 5/32", 3/16", 1/4" aluminum blind rivets and 5/32", 3/16" steel rivets. It constructs with 1/4" air inlet and adjustable universal joint, so you could rotate it 360 degrees according to compressed air. We provide as well as extended air rivet gun and right angle air riveter. The head of the right angle pneumatic riveter can be rotated 360 degrees, which helps you work in narrow space, corner and other areas that are difficult to reach.
Why choose us?
Our pneumatic rivet guns are ideal for riveting work. Rivet capacity 3/32" - 3/16", 3/32" – 5/32", 1/8" – 3/16", 5/32" -1/4" for your choice. Here are the advantages of our pneumatic rivet guns.
Light weight
Our air rivet gun has an ergonomic handle that won't wear out your arms. Even heavy duty air riveters and industrial riveters are lightweight and comfortable to hold.
Easy to use
Air rivet gun follows a simple process to drive rivets, which allows you to place a great many rivets in a short time. At Tool.com, we offer automatic suction pneumatic riveter, you just need to operate it with one hand. The air rivet gun not only improves your work efficiency, but also saves your energy.
Riveting quality
Air riveters at Tool.com has a precise riveting every time without too much effort. Margin of error is much less than other rivet guns.
No battery necessary
Pneumatic rivet guns require compressed power to work, you don't need to worry about the battery running out halfway through.