A file is a hand tool to remove something from workpiece, suitable for metal, wood, leather and so on. A rasp is a coarse form of file, generally used for wood. The file or rasp has many teeth on its surface used to remove small amounts from the object's surface so as to reach the required size, shape or the degree of roughness. They can be used to file the outer surface, inner hole, groove and various complicated surfaces of the workpieces.
Files are generally made of carbon steel after a complicated process to reach a high strength and hardness, generally up to HRC62~64. The file is mainly divided into two parts: file body and file handle. The filing surface is the main working surface on which there are many teeth. The file handle is convenient to grip in use.
At Tool.com, you can find many kinds of files, including flat file, square file, half round file, round file, triangular file, diamond file, knife file, etc. Metal files generally have sizes of 6 inch, 8 inch, 10 inch and 12 inch, suitable for sharpening or polishing metal, wood, and other materials. Diamond files are one of files that are plated with diamond grint, which can file the hard materials like steel, glass, ceramics. Needle files are small files, which are usually packed in a set with a number of files of various section shapes, applicable for filing small and fine metal parts. Riffler files feature various shapes for working in tight and hard-to-reach areas. Wood rasps are used for cutting soft materials such as wood and leather. Whether you would like to do the metalworking, woodworking, model projects, DIY, or other jobs, you can buy a satisfactory file or rasp at wholesale price here!
Types of File
There are many types of files according to shapes, sizes, cuts, tooth configuration, materials, etc.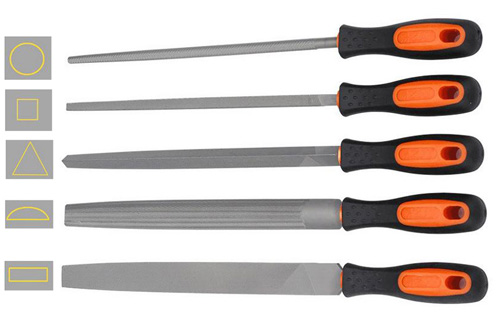 • According to the cross-sectional shape of files, there are Flat Files, Square Files, Half Round Files, Round Files, Triangular Files, Diamond Files, Knife Files, etc.
Flat files are used to file flat, external and convex arc surfaces.
Square files are used to file square holes, rectangular holes and narrow flat surfaces.
Triangular files are used to file internal corners, triangular holes and flat surfaces.
Half round files are used to file concave arc surfaces and flat surfaces.
Round files are used to file round holes, concave arcs and ellipses with smaller radius.
• The file teeth is regularly arranged on the working surface of file, so there are two types of tooth configuration: single-cut and double-cut. Single-cut files have rows of parallel teeth diagonally along the working surface which are often used for filing some soft materials such as aluminum, while double-cut files have rows of teeth crossing each other which are suitable for filing hard materials.
• With different degree of roughness and fineness of the file teeth, the files usually are divided into rough, coarse, bastard, second-cut, smooth, and dead smooth. The diamond file has no file teeth, but a layer of diamond powder is electroplated on the surface of the file to file hardened metal.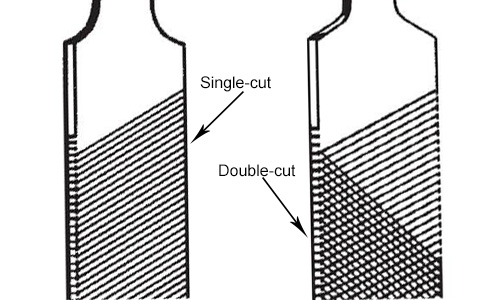 • For different applications, the files also come in different styles.
Metal files for general filing processing.
Wood files or rasp, used for filing soft materials such as wood and leather.
Needle files, used for filing small and fine metal parts and often provided with various cross-sectional shapes in a set.
Special files, such as the riffler files, designed for filing glass, ceramics, metal, jade, etc.
Optimal Tips for Using a File
New file tool is not allowed to sharpen hard metals.
The files are not allowable to file the quenching materials.
The work pieces with hard skin or sticky sand should be ground off on a grinding machine before they can be filed with a file.
For a new file, it should use one side first, and then use the other side when one side is blunt.
When filing the workpiece, it need to clean the chips among the teeth frequently with a wire brush.
The files cannot be overlapped or stacked with other tools, otherwise it may wear the teeth of files.
It is not advisable to use the file too fast, otherwise the file is easy to wear.
Avoid water, oil or other dirt on the file.
The smooth-teeth files are not allowed to file soft metals.
It should not apply too much force when using needle files, to avoid file breaking.
Wood Rasp
A rasp is a coarse form of a file, more suitable for filing wood or other soft materials. The rasps also vary in the shapes, such as flat, round, half-round, etc., and have different roughness of cuts.
The coarse wood rasp features large tooth pitch and tooth depth, and is not easily blocked by filings. It is suitable for rough finish (that is, large filing allowance, low precision requirements and low surface quality requirements) and relatively soft wood materials filing with improved efficiency.
The fine wood rasp is suitable for relatively hard wood filing and smooth finish to ensure the accuracy of the processed workpiece.
Use of Wood Rasp
The correct use of wood rasp is helpful for improving filing quality, work efficiency and extending the service life of rasp.
The filing direction of the rasp should be perpendicular to the wood grain or at a certain angle. The teeth of the rasp are arranged forward, that is, the rasp is in the filing (working) state when the file is pushed forward, and it is in the non-file (non-working) state when the file is returned. Therefore, when pushing the rasp, press down forcefully to complete the filing, but avoid shaking up and down, and do not use any force when the file returns to avoid dull teeth.
The correct holding gesture of the wood rasp helps to improve the quality of the sharping. The grip method of the rasp are as follow. The palm of one hand is placed against the end of the wooden handle of the file, the thumb is placed on the handle of the rasp, and the other four fingers are bent under the handle, so as to firm grip the handle of rasp. The other hand can be used with a variety of postures according to the size of the rasp and the intensity of the force.
In addition, there are some notes for using the wood rasp. The wood rasp cannot be used to file metal materials, and cannot be used as a pry bar or knock the workpiece. The rasps should not be stacked with each other or with the other tools.