Building construction refers to the production activities in the implementation phase of project construction. It is the construction process of various types of buildings. It can also be said that the various lines on the design drawings are transformed into physical objects at designated locations. It includes foundation engineering construction, main structure construction, roofing engineering construction, decoration engineering construction, etc. The place of construction is called "construction site".
No matter what kind of construction project you are engaged in, there are many professional tools needed in this process, and it is vital that you have the best tools to help you get the job done. Flexible use of tools can improve efficiency and achieve twice the result with half the effort. Even a good worker can hardly finish a job on a construction site without the right tools, which will undoubtedly delay the project. Before buying a construction tool, you must consider the type of work you will be doing and your financial budget. If you're working on a small or medium-sized project, it's impractical to order a great quantities of tools, which you probably don't need and waste money on. Each tool has a specific function, and you don't bring a hammer to a job that requires a saw.
What Are the Tools Used in Construction?
If you are looking for a right tool for your construction project, Tool.com online store is your perfect choice. Wide selection of powerful construction tools at wholesale price can be found on our store, which are Concrete Mixer, Concrete Vibrator, Diamond Core Drill, Plate Compactor, Power Trowel, Tamping Rammer etc for your specific needs. When you buy the construction tools, these are the first tools you should consider buying. Regardless of your job type, they are all tools you may use frequently. You should also consider how useful the tools are for your work, because some tools are designed for very specific tasks. Although larger tools may be better at getting the job done, you should also consider the mobility of the tools so that you can easily bring them to the construction site.
What Tools Do I Need for Concrete?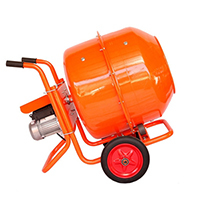 Concrete mixer (commonly known as cement mixer) is a construction tool that mixes cement, gravel aggregate and water to make concrete mixture. The electric concrete mixer machine is mainly composed of mixing drum, feeding and unloading mechanism, water supply system, prime mover, transmission mechanism, frame and supporting device.
There are three main advantages of our small electric concrete mixers. The first is mixer machine with small size, only 120L to 600L (4 cu.ft to 21 cu.ft) drum capacity and easy to move. We can move the small cement mixer to the position where it is needed in time on the construction site. Its second advantage is that it is easy to operate. The mini cement mixer is simple in structure, so the operation principle is also very simple, non-professionals can operate it. The third is that the small concrete cement mixer has good mixing quality, short mixing time and low energy consumption, which can meet the needs of building construction. It is precisely because the small cement mixer has many advantages that people will use it widely.
A concrete vibrator is a machine that uses power to generate frequent vibrations through an inner motor device as a vibration source and transmits frequent vibration through flexible shaft to concrete and then to vibrate it so as to remove air bubbles within the mixture and help concrete settle faster, enhancing longevity and strength of cement. The vibrators convert electric power into mechanical energy.
The portable concrete vibrator machine on Tool.com provides factory price and free shipping, which operates with full copper motor offering a range of various rated power (800W, 1500W...to 4800W), matched flexible shaft, 110 / 220V voltage and different rotary speed (2840VPM, 3600VPM...to 18000VPM). It is widely used to tamp to make the concrete densely combined, eliminate cavities or honeycomb-like spaces in the concrete so that it is suitable for constructions of bridge, tunnel, harbor, large-scale dam, water wheel power plant and architectural engineering as a multifunction tool in construction industry.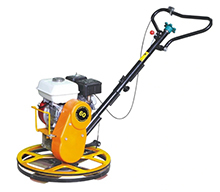 Power trowel machine is a high-efficiency troweling machine for building concrete surfaces. It is mainly used for smoothing and calendering concrete surfaces such as road (ground) floors, municipal projects, airports, etc. to improve the density and wear resistance of the ground. The power trowel machine is compact in design, and the deceleration device adopts an arc gear, and its deceleration principle is the same as that of an automobile differential. The concrete trowel can save time and effort, shorten the construction date, and improve the compactness and wear resistance of the concrete surface. Especially in the construction of the concrete surface, the trowel after the vacuum water absorption process is an indispensable construction tool.
We offer a wide range of power float machines working diameter form 600mm (24") to 1200mm (46") at lower price. Powered by 4-stroke air cooled single cylinder gasoline engine, model available with 5HP Robin EY20, 5.5HP Honda GX160 and 6.5HP Chinese Loncin GF200. Foldable handle for easy transportation and storage. Heavy-weight design to assure a superior finish.
What Are the Types of Cutting Tools?
The main function of concrete saw machine is to cut seams on the road surface, which is a powerful construction tool for road maintenance and construction. It is often used on cement roads and asphalt roads and the cutting depth ranging from 100mm to 200mm. It may be powered by gasoline, hydraulic or pneumatic pressure, or an electric motor. The road cutter machine uses diamond blades for cutting, which has fast cutting speed, smooth and beautiful cuts, and can cut steel bars in concrete. A hand wheel that can adjust the cutting depth is installed next to the handle of the machine. Rotate the hand wheel to raise and lower the front traveling wheel to adjust the height of the saw blade.
Electric wall chaser groove cutting machine can groove beautiful and practical slots of different angles, widths and depths at one time according to user's requirements and no other auxiliary tools are needed, is a multifunction construction tool for decorating new houses, such as slotting concrete, marble, granite, bricks and other materials, as well as installating wire lines including telephone lines, network cables, water and electricity lines for construction workers. The wall groove cutting machines on Tool.com store for sale at affordable price, which are powered by pure copper motor offering a range of different rating power (1200W, 1600W...to 5200W), saw blade diameter (115mm, 125mm...to 180mm) to select and 180°/ 360 ° slotted without dead ends, they feature one-time forming and can reduce the labor intensity and can adjust the width and depth when cutting, combining with vacuum cleaner to reduce the damage to human body as an efficient and safe cutting tool.
What Tools Are Used To Decorate a House?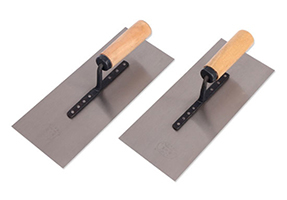 Plastering trowel, also known as trowel, is classified as a craftsman tool, which is a hand tool for smoothing and filling the plaster; the putty knife is also known as a squeegee, and is one of the paint auxiliary tools often used by painters. According to the shape of plastering trowel blade, trowels can be divided into flat edge trowels and toothed trowels. The toothed trowels are also divided into square tooth trowels, pointed trowels and curved teeth (also called square nothches trowels / rectangular notches trowels, V-notches trowels and U-notches trowels). The putty knife is also composed of a blade and a handle and its overall shape is triangular.
Tile tiling machine benefits:
High working efficiency. The new invention tile machine vibrator is used for moving and installating tiles and bid farewell to the traditional manual work with hands and hammer. Tiles laying efficiency with the machine is 3-4 times that of labor.
Strong adsorption. The tile tiling machine can easily absorb tiles to move and pave with rubber suction cup, which avoids the direct contact between tiles and worker's hands to cause damage. Convenient, safe and labor-saving.
Automatical operation. The tile machine vibrator is invented according to the working principle of vibration machine, one-button and intelligent tiling.
Features of grout removal tool:
Multipurpose function. Removing unwanted grout, mortar, thinnest, caulking or dirt from tile joints and seams.
Top hard tips. Tips are made from super hard metal Tungsten Steel, which is harder than tile and any other metal including carbide and stainless steel.
High efficiency. Durable tips are reversible, providing four scraping edges for longer service life.
Friendly design. Features 8.9 inches length to clean hard to reach the deep joints and comes with a ergonomic soft comfort grip handle to minimize fatigue under large jobs.