Wholesale favorable price flashlights on Tool.com. The flashlight or torch is a lighting tool that is convenient for our daily life. We provide different kinds of the best and brightness flashlights for you, LED flashlight, work light, UV flashlight, headlamp and so on. USB rechargeable and power by 18650, 26650 or AA batteries. Our flashlights have strong light, high quality, which is sturdy and durable enough for long time using. Buy our LED flashlights/torches online now.
Flashlight
A flashlight is a handheld lighting tool that is made of a light bulb or several light bulbs powered by batteries, a focusing mirror and a shell. An LED flashlight is a new kind of flashlight based on the LED light source that has many advantages, such as high Lumens, low power consumption, long service life and so on, which is an ideal option for daily lighting. The principle of the LED is that the voltage is applied to both ends of the PN junction of the LED so that the PN junction to form an energy level, then the electrons jump on this energy level and produce photons to emit light.
Directions for Flashlight Use
Choose batteries with the right voltage for the flashlight according the requirements, do not misuse with batteries in order to prevent burning the circuit board. Don't use batteries with different voltages at the same time.
When the brightness of the flashlight obvious change, turn off the flashlight to prevent the battery over discharge.
Heat dissipation is important for a flashlight in use. When the battery is fully charged, it is better to use the second gear firstly, so that the bulb and the battery can be extended service life.
Do not shoot the flashlight directly into the eyes of others, lest to affect the vision.
Battery
The AA battery is commonly used in flashlights, which is divided into alkaline battery (a dry battery can't be recharged) and rechargeable NI-MH battery. The other kind of battery is rechargeable lithium battery whose types are 18650, 14500, 26650, 16340, etc.
Lithium battery instructions:
Lithium batteries can be charged at any time, but do not overcharge and discharge.
The first charge should last for 6-8 hours. After that, charge complete according to the green light on the charger. Charge the battery when the lights are dimmed, or the battery will overshoot and cause irreparable damage.
It is suggested using the charger with anti-overcharge, anti-reverse connection and anti-short circuit.
If the battery is not used for a long time, it should be fully charged and stored. Normally it needs to be discharged and charged again in about three months.
Applications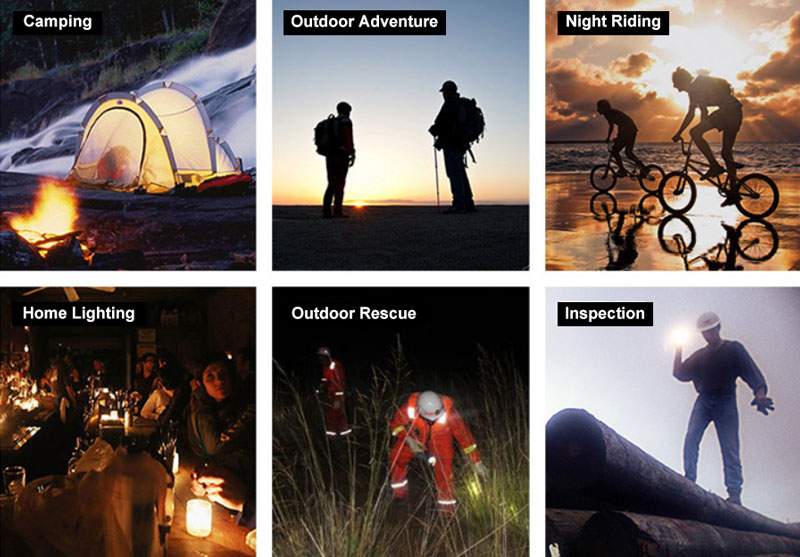 Flashlights have a great many uses, which can give you a light whenever and wherever you need.
Night activities: Night activities include night fishing and night riding, etc. You may need a high Lumens headlamp with long battery life.
Home lighting: If there is a power failure in your home, you must need a flashlight. It will make your life more convenient.
Outdoor activities: It is necessary to have a flashlight for outdoor activities that include camping, hiking, caving, climbing, and hunting and so on. You could select different types of flashlights and headlamps according to own real needs.
Auto maintenance: It is convenient to check vehicles with a flashlight, but the cell phone flashlight is limited. Sometimes, a strong light flashlight need to be used for check cars in order to find some problems clearly.
Diving: It is useful for divers having a waterproof diving flashlight with high Lumens in order to keep good vision.
Outdoor rescue: In an emergency, it is vital for using a strong light flashlight to observe things better at night in order to search and rescue.
Inspection: When inspecting objects and materials, many hidden corners and gaps are invisible, so a flashlight is needed to light up and find the problem in time.