Construction includes building construction and engineering construction. Project construction is the activity of new construction, expansion, and reconstruction of a construction project according to the requirements of the construction project design document. Building construction refers to the production activities in the implementation phase of project construction, and is the construction process of various types of buildings. It can also be said to be the process of turning various lines on the design drawings into physical objects at designated locations. It includes foundation engineering construction, main structure construction, roofing engineering construction, decoration engineering construction, etc. Tool provides a variety of construction products, various types and uses. I hope the following introduction will help you in choice.
Tile Tiling Machine
The machine adopts infrared positioning, automatic sensing, lifting and control of ash feeding. It can reach the standard of verticality, flatness error within 1mm, and zero hollow rate, which can never be achieved manually. The efficiency is also four times that of ordinary bricklayers. It does not require professionals to operate, convenient to carry and easy to operate. The advent of this product has solved the tired, bitter and dirty problems for the construction industry, reduced costs for corporate users, improved quality, saved raw materials, and shortened the construction period.
Advantages:
It is easy to use. All installation procedures can be completed in just ten minutes before installation, and the width and height of the working surface can be adjusted arbitrarily.
High speed. A tile sticking machine can stick bricks a day more than four times that of a professional bricklayer. It can reach 40 to 200 square meters.
High quality. The installation of tile tiling machine solves the problem of empty drum and large vertical flatness error caused by manual sticking of bricks. Using this equipment can reach the highest level of empty drum and vertical flatness of zero.
Electric Concrete Mixer Machine
The Electric concrete mixer machine is a machine that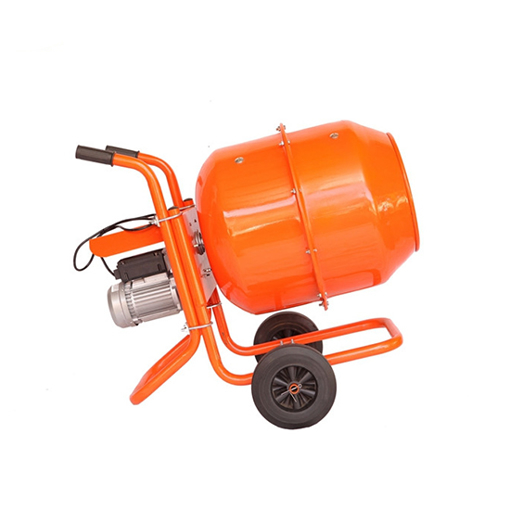 mixes cement, sand and gravel aggregates and water and mixes them into concrete mixtures. It is mainly composed of mixing drum, feeding and unloading mechanism, water supply system, prime mover, transmission mechanism, frame and supporting device. According to the nature of work, it is divided into batch type and continuous type; according to the installation method, it is divided into fixed type and mobile type; according to the structure of the mixing drum, it is divided into pear type, drum type and double cone, disc vertical shaft type and circular groove horizontal shaft type, etc.
How to maintain:
To maintain the cleanliness of the body, should remove dirt and obstacles on the body.
To check the oil and circuit and control equipment of each lubrication place, and add lubricating oil as required.
During the operation of the electric concrete mixer machine, you should always monitor whether the noise of the motor, reducer, and transmission gear is normal, and whether the temperature rise is too high.
Rebar Tying Machine
The rebar tying machine is a hand-held battery-type fast tying tool. It is an intelligent tool with a built-in micro-controller that can automatically complete all steps of steel bar binding. It can be widely used in the field of construction engineering to replace manual steel bar binding. Rebar tying machine is mainly composed of four parts: machine body, special wire reel, battery box and charger.
Features:
No need for power, no fasteners, easy to move, and can be packaged anytime and anywhere.
It is easy to use, light weight, no need for external power.
No fasteners are required, and the bipolar quasi-force structure is adopted, which can easily realize the buckle connection between the steel packaging belts, and the connection reliability is high.
Large tightening force, special structure design, easy to achieve tightening and binding of steel, aluminum ingots, heavy packaging materials.
High mechanical durability, all body and components are made of high-strength alloy materials, high-reliability design, and advanced technology manufacturing.
Aluminium Ladder
The safety aluminum ladder refers to the safe aluminum ladder used in ascending operations. It is mainly used for high-altitude operations of the staff in the fan and tower to ensure the maximum safety of the operators and improve the safety factor of the operation. The third-generation safety aluminum ladder is made of aviation aluminum, which is of high quality, durable, safe and comfortable.
Advantages:
Strong plasticity. Aluminum alloy profile is a metal material. Aluminum and various metal elements are made into various alloys. It has the unparalleled advantages of other alloy profiles. It is light in weight and high in strength. It can be extruded into various complex cross-sectional profiles used in various periods.
Good airtightness. Aluminum alloy profiles have four aspects: strong air tightness, water tightness, heat insulation and sound insulation. These four significant advantages are just suitable for various applications in the construction industry.
Long lasting. It has the advantages of light weight, high strength, corrosion resistance, small deformation, strong fire resistance and long service life.
Energy saving. Aluminium Ladder adopts a new type of heat insulation material to form a partition space between the inner and outer profiles, thereby minimizing the heat conduction of the aluminum alloy, and has good heat insulation.
Excellent weather resistance. Aluminium Ladder has been treated by various processes, and the surface is resistant to acid and alkali corrosion and is not affected by air pollution, acid rain, and ozone. It is resistant to ultraviolet rays and maintains its inherent color and luster for a long time.