Electric pruning shears are among the electric tools commonly used to trim and cut branches and leaves in orchids, gardens, mulberry trees, and vine grapes. However, professionals should receive training before operating electric pruning shears and attach importance to specific methods. After being used, electric pruning shears should be cleaned in time, stored in a safe place, and maintained regularly. Compared with traditional manual scissors, operated moreconveniently and effortlessly than common manual shears,electric pruning shears trim fruit treesmore healthily and are good helpers for agricultural production. Electric pruning shears are mainlycharacterized by the following advantages: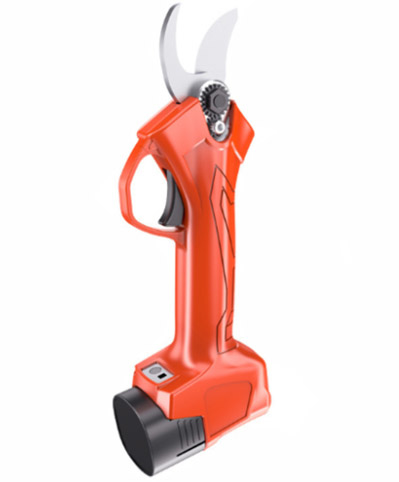 1. Higher efficiency
Electric pruning shears are electrically driven and thus prune twigs two or three times faster than traditional manual shears. Besides, electric pruning shears can be operated in two directions and are more suitable for the pruning or modeling of fruit trees than ordinary shears. After pruning the twigs of fruit trees with a pair of manual shears for a long time, the user will generally suffer from unbearable pains in the fingers and arms. Conversely, electric pruning shears do not bring such pains.
2. High resistance
Electric pruning shears have a simple structure, operate stably and have a lower fault rate. With a high cutting capacity and service life, cutters can be used for a long time if they work normally and are maintained regularly.
3. A high pruning quality
Electric pruning shears operate stably, and the pruning quality meets gardening requirements. When used correctly, electric pruning shears perform more evenly than manual pruning shears, basically without a miss. Compared with twigs pruned by manual shears, the branches pruned by electric pruning shears are closer to the state of natural growth and eventually develop into a larger canopy. In addition to a flat and more esthetical pruning surface, electrically-pruned leaves germinate more evenly and in a larger quantity than manually pruned ones.

4. High safety protection
Electric pruning shears are equipped with high safety protection. If jammed, the shears' circuit self-detection procedure will start engine monitoring immediately to avoid burning the engine. The engine's protection function (brushless DC motor) is controlled by switches with a hall chip. The circuit will be protected against battery overload, overcharge, overheat, over-discharge, and excessive pressure to maintain normal functions.