Nut splitter is a common hydraulic tool used to split and cut nuts. Bolt caps (nuts) are widely used as parts tools in industrial production. In the open high temperature or corrosive environment, the nut is easily rusted and cannot be removed. Some nuts thread are damaged due to being hit. In these cases, it is very difficult to remove the nut. The traditional method is usually to use (gas) welding to cut off the nut and bolt together. However, under some special working conditions (such as pulverized coal silo, oil pipeline, high-pressure and high-temperature pipelines of power plants, etc.), it is strictly forbidden to use fire (electric) welding. At this time, the nuts and bolts cannot be split and replaced. Hydraulic nut splitter can split and remove the nut without fire or electricity, and will not damage the bolt thread. Hydraulic nut splitter can solve the problem of disassembly and replacement of bolts and nuts simply, quickly, safely and efficiently.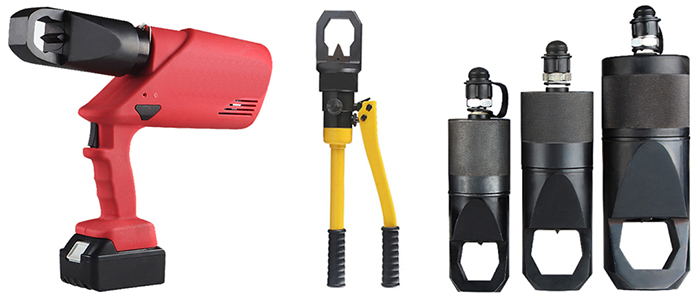 Features of Hydraulic Nut Splitter in Tool.com
Function: splitting and removing rusty nuts.
Fast: It only takes a few seconds to break a nut, completely replacing the traditional gas cutting method.
Safety: hydraulic operation, no impact, no sparks, suitable for mining, industrial and explosion-proof environments.
Multi-purpose: It can split all high-hardness nuts. The applicable opposite side length of nut is 13mm-75mm (M8~M48). Each model can cut nuts of 6-8 sizes.
Benefit: Affordable price, saving operation time, avoiding unnecessary cost waste caused by damage to bolts.
Optimization: The inclined shape of the hydraulic nut splitter head can cut most of the dense nuts.
Manual Hydraulic Nut Splitter Price List
Product Name
SKU
Nut Splitting Range
Output Force
Price
M8~M32 Hydraulic Nut Splitter, 10 Ton
T-HNS-832
M24-M32, M16-M24
10 Ton
$144.31
M8-M14, M16-M24
10 Ton
$166.85
M22~M27 Hydraulic Nut Splitter, 20 Ton
T-HNS-2227
M22-M27
20 Ton
$267.31
M6~M27 Hydraulic Nut Splitter, 5~20 Ton
T-HNS-627*
M6-M12
5 Ton
$132.62
M12-M16
10 Ton
$154.93
M16-M22
15 Ton
$208.93
M22-M27
20 Ton
$265.31
M27~M48 Hydraulic Nut Splitter, 35~90 Ton
T-HNS-2748*
M27-M33
35 Ton
$387.77
M33-M39
50 Ton
$545.23
M39-M48
90 Ton
$903.08
M10~M24 Hydraulic Nut Splitter, 12 Ton, 18V, 3Ah
T-HNS-1024
M10-M24
12 Ton
$1,099.92
*Note: The model with * is only the head of the hydraulic nut splitter, which needs to be used with a hydraulic pump. Please check the catalog for details.