Clamp & Vise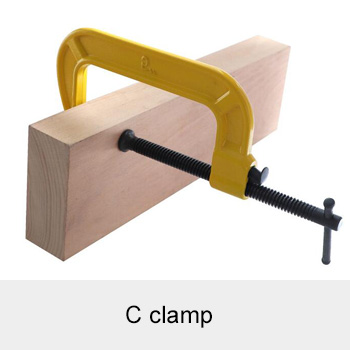 The clamps and vises (or vices) almost have the same purpose, and both are used to hold the objectssecurely. They have a wide applications including carpentry, woodworking, furniture making, welding, construction and metal working. However, they comes in different construction with various types. The following information will give you a brief introduction about these.
Common Clamp Types
Clamps are easily found in the woodworking. The clamp is a necessary hand tool for woodworking. It is very simple to use, and it is a good helper for woodworking. There are many kinds of clamps with different uses, and the prices also vary greatly. The clamps are usually divided into bar clamps, C clamps, spring clamps, pipe clamps, etc., according to their appearance characteristics.
C-clamp (G clamp)
C-clamp, also known as G-clamp, is used to firmly hold various shapes of work pieces, modules, etc. The name of the C clamp is derived from the frame of the clamp like the letter C, while the G clamp is derived from the overall structure including the screw structure like the capital letter G. With a threaded screw-in design, the C-clamp can freely adjust the clamping range. And the common sizes of C clamps include 1", 2", 3", 4", 5", 6", 8", 10", 12", etc.
Bar clamp (F clamp)
Bar clamp is also a most commonly-used clamp in the woodworking. As it looks like capital letter F, the bar clamp is also called F clamp. The clamping capacity of bar clamp is decided by the length of the bar. The bar clamp is usually made from steel for high strength, so it is very suitable for some heavy-duty clamping. It can be applied in many occasions such as making furniture, especially for holding the pieces when gluing.
Quick release bar clamp
Quick release bar clamp is also a kind of bar clamp. But unlike the typical bar clamp, the quick release bar clamp has a biggest advantage, that is, it can be operated with one hand. In other words, whether it is used for clamping or releasing the object, it can be operated with one hand. However, the quick release bar clamp has a relative weaker clamping force compare with the typical bar clamp, so it is suitable for occasions that do not require high clamping force, and require frequent adjustments, such as small workpieces fixture, photo frames gluing and so on.
Spring clamp
Spring clamp looks like a capital letter A. Although it is similar to the clips used in the daily life, actually it is more heavy duty. The spring clamp features thick material, sturdy spring and hard to open with one hand. Generally, it is made from metal and plastic. Metal spring clamp are available with 4, 6, 7, 9 inches, etc., and plastic spring clamps have 2, 3, 4, 6, 7, 9 inches, etc., in sizes.
90 degree corner clamp
90 degree corner clamp is suitable for picture framing, box or cabinet assembling, welding, etc. The 90 degree corner clamp is often used to fix four corners of the photo frame after gluing, just rotating the handle to clamp and fix. It is very convenient to make the picture framing.
C-clamp locking pliers
C-clamp locking pliers are a type of locking pliers, and it is often used to clamp the objects in various shapes in woodworking. In some cases, it can replace the spring clamp. The C-clamp locking pliers can adjust the jaw opening with the screw attached to the handle according to the shape of the workpieces. There are also many sizes of C-clamp locking pliers including 6", 9", 11", 14", 18", etc.
Safety Tips for Using Clamps
Wear safety glasses or a face mask and gloves to protect yourself during the operation.
Choose the appropriate clamp type and size to meet the clamping requirements. When selecting a suitable clamp, there are some factors you need consider, such as the strength of a clamp, clamping capacity, throat depth, ease of adjustment, etc.
Make sure that the adjustment screw can be rotated freely before use.
Before tightening, ensure that the jaws of the clamp are in full contact with the workpiece. Then close the jaws until the clamp is tight.
Better to use a clamp with a pad to avoid scratches on the workpieces.
Do not use any clamps with bent or broken frame.
Do not use a wrench, pipe, hammer or pliers to tighten the clamp, instead, use the special wrench for the clamp.
Do not use a clamp to lift or pull.
Types of Vises or Vices
A vise or vice is a tool for holding a workpiece that features two parallel jaws, a fixed jaw and a movable jaw adjusted by a screw or a lever. There are many types of vises for different purposes.
Bench vise
Bench vise, is a commonly used clamping tool in woodworking and metalworking. It is installed on the workbench and used to clamp workpieces securely for doing other work.
The woodworking vises are different from metalworking vises. The woodworking vises are typically used by woodworkers to hold the work pieces. The woodworking vise are available three types: face vice, leg vice and end vice to provide different uses.
The metalworking vise is used for clamp metal for assembly, repair and processing purposes. It is generally constructed with cast steel or malleable cast iron. The metalworking vise has two parallel iron jaws and a base. According to different structures, they are available with fixed base, swivel base, suction cup base and clamp base.
Hand vise
Hand vise is a hand-held tool for clamping small workpieces or thin slices for performing the other jobs. For example, when filing a long and thin workpiece, you can first clamp the workpiece with a hand vise, and then place it on a bench vise for processing. It is also suitable for clamping the workpiece for welding and drilling.
Pipe vise
Pipe vise is a clamping tool specially designed for tightly hold pipes or other cylindrical workpieces on the worktable for threading, cutting or other processing. The pipe vises have chain type and yoke type. The chain type vise adopts a chain for clamp the pipe securely while the yoke type uses a screw to hold the pipe tightly. The pipe vises are widely used in pipeline installation and pipeline maintenance.
Drill press vice
Drill press vice, also known as machine vise, often works with milling machines and drilling machines. Some mini or small-sized drill press vice are used by DIYers or hobbyists to hold some small work pieces to do some DIY work, carving, model making, craft working, etc.
How to use clamp-on bench vise correctly?
When clamping the workpiece, it must be tightened properly, and the handle can only be tightened by hand.

Try to make the force towards the fixed clamp body during use bench vise.

Do not knock on the movable clamp body and smooth surface.

The moving surfaces such as lead screws, nuts should be cleaned and lubricated frequently in order to prevent rust.
Tool.com is your source to find various types of clamps and vises listed above. With high quality, durable construction and long performance, our clamps and vises are sold at economical prices with several sizes, to meet your different applications like woodworking, furniture making, welding, construction and metal working, etc. Whether you are professional or hobbyists, you can get a proper clamp or vise here.