When working in the garden, gardeners must deal with soil, branches, and rocks that may cause stab wounds or scratches. Garden gloves are used to protect hands from such gardening hazards. Some gloves are suitable for wet work and delicate work, and some are used for frosting. So many aspects of gardening require different gardening gloves. In the process of work, our palms are the most vulnerable to external injuries.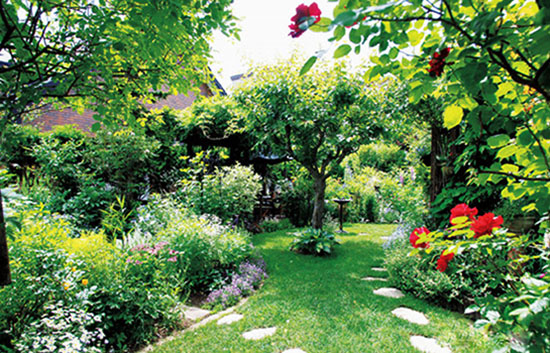 A pair of wear-resistant and comfortable garden gloves is necessary. In addition to planting, gardening also includes digging, pruning, raking and weeding. Gloves can protect your hands from blisters, abrasions, sunburns, stab wounds, and chapped injuries. They also help keep your gardening experience enjoyable. Claw garden genie gloves, leather gardening gloves, ladies long sleeve gardening gloves, kids gardening gloves can be bought on Tool. There are many types of gloves to choose from on Tool, which are affordable(the lowest is 9 dollars) and of good quality.
Garden Gloves Price List:
| | | | | | |
| --- | --- | --- | --- | --- | --- |
| Product Name | SKU | Gloves Material | Uses | Weight | Price |
| Ladies Long sleeve gardening gloves | T-GG-60 | Leather, sheepskin | Gardening, outdoor and planting | 110g | $39.89 |
| Laidies Thornproof Gardening Gloves | T-GG-40 | Cotton | Gardening, outdoor and planting | 110g | $46.97 |
| Womens Rose Gardening Gloves | T-GG-50 | Nylon | Dig soil, grow flowers, and plant flowers | 147g | $19.86 |
| Leather Gardening Gloves for Men and Women | T-GG-70 | Leather | Garden work, suitable for all kinds of arm protection work | 200g | $23.62 |
| Heavy Duty Leather Gardening Glove | T-GG-30 | Leather | Garden work, handling and fishing | 200g | $28.92 |
| Claw Garden Genie Gloves | T-GG-20 | Natural Latex + ABS | Dig soil, grow and plant flowers | 147g | $9.89 |
| Waterproof Gardening Gloves for Women | T-GG-10 | Emulsion | Garden work, grow and plant flowers  | 110g | $23.67 |
| Kids Gardening Gloves | T-GG-80 | Nylon, natural latex | Gardening, catching the sea and beach | 100g | $23.62 |
Note: The prices in the table are just for your reference. If you want to get the latest quotation, please give us a message.
The surface layer of garden glove is made of abrasion-resistant microfiber, with non-slip silicone printed on it, which has a non-slip and abrasion-resistant effect, and can also give the user a strong grip. The back of the hand is brilliant-colored stair cloth, the color is close to the garden, and it is diversified, which can bring beautiful appearance to the glove. Choosing fluorescent materials can also avoid the danger of working in a dark environment. Not only that, back of the hand is protected from tree cuts.
Tips For Choosing Garden Gloves: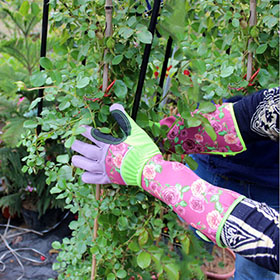 The principle of choosing the length of gloves is: the shorter the sleeves of the clothes, the longer the length of the gloves should be selected. If you wear short-sleeved, sleeveless, or strapless clothing, you should wear long gloves.
The size of the garden glove should be appropriate. If the glove is too tight, it will restrict blood circulation, which will easily cause fatigue and uncomfortable; if it is too loose, it will be inflexible and easy to fall off.
To check the gloves frequently. Checking for small holes or damaged or abraded areas, especially finger joints.
Avoid sharing gloves with others. Because the inside of the glove is a breeding ground for bacteria and microorganisms, sharing gloves with other people is easy to cause cross-infection.