Tool.com provides wholesale price garden sprayers online. The garden sprayers listed in the latest price list include 0.5-5 gallons pump garden sprayers and some small spray bottles. As the essential garden tool for everyone, these garden pump sprayers have super hardness and the colors and materials are the best. They can spray even water mist, and you can also adjust the size of the water droplets. Our backpack pressure sprayers are suitable for disinfection of sanitation and epidemic prevention, hotels, greenhouses and storage; water spraying and pest control for flowers, bonsai, and nurseries; pest control for small farmland vegetables and fruit trees, etc. Now buy a lower cost garden backpack sprayer from Tool.com and you'll get great benefits.
Garden Sprayers Latest Wholesale Price List
| | | | | |
| --- | --- | --- | --- | --- |
| Product Name | SKU | Capacity | Material | Latest Wholesale Price |
| 0.5 Gallon Hand Pump Pressure Sprayer for Garden | T-PS-30 | 2L/ 0.5 gal | PP plastic | $18.31 |
| 1 Gallon Pump Pressure Sprayer, with Shoulder Strap | T-PS-5CL | 5L/ 1 gal | PP + PE | $44.57 |
| 1.5 Gallons Garden Pump Sprayer | T-ZL8-6A | 6L/ 1.5 gal | 304 Stainless Steel | $116.51 |
| 2 Gallon Pump Pressure Sprayer, with Shoulder Strap | T-PS-S8C | 8L/ 2 gal | PP + PE | $47.05 |
| 2.5 Gallons Garden Pump Sprayer | T-ZL13-10A | 10L/ 2.5 gal | 304 Stainless Steel | $116.51 |
| 3 Gallons Garden Pump Sprayer | T-SX-CS12L | 12L/ 3 gal | PP PE | $98.31 |
| 4 Gallons Garden Backpack Sprayer | T-SX16E2 | 16L/ 4 gal | Plastic | $168.23 |
| 5 Gallons Garden Backpack Sprayer | T-SXMD20E | 20L/ 5 gal | PP PE | $227.21 |
| Plastic Trigger Spray Bottle | T-SP-027 | - | PP | $9.73 |
| 2 In 1 Spray Bottle Set, 5 Piece | T-SP-028 | 1L | PP | $15.43 |
Types of garden sprayers
Garden hand sprayer. Such as automatic high-pressure sprayer, its working efficiency can reach the working efficiency of backpack motorized sprayer.
Garden battery powered sprayer. The electric pump sprayer industry is also constantly introducing new products, and the number of manufacturers is increasing day by day.
Garden motorized sprayer. There are mainly hand-push, vehicle-mounted, stretcher and other highly professional sprayers, which have irreplaceable advantages under specific working conditions.
According to the structure, there are air chamber built-in pump sprayers and air chamber external pump sprayers.
According to the production process, there are blow molding process garden sprayers and injection molding process garden sprayers.
Using tips for garden pump sprayer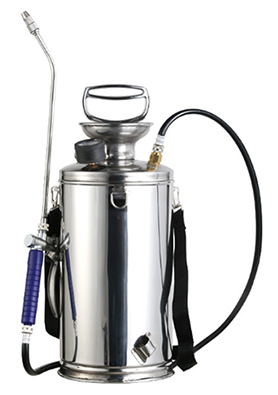 Assemble the components of the garden pump sprayer according to the instruction manual. After the assembly is completed, put a certain amount of clean water in the pesticide storage room, and perform a test spray to confirm whether the garden pressure sprayer is well airtight, whether there are pipe ruptures, water leakage, air leakage, etc.
After the test spray, it can be used normally. Pour 1/3 of the clean water into the pesticide storage room first, and then pour the pesticide in to make the ratio of pesticide to water meet the requirements. But do not let the physic liquor in the pesticide storage room exceed the water level, otherwise it will easily overflow.
When mixing the physic liquor, since there is still water left during the test spraying in the nozzle, please spend 3 minutes test spraying before the formal spraying to let the physic liquor fill the nozzle before the garden sprayer can be used.
After the spraying work is completed, the pesticide residues in the spraying bucket should be cleaned, and the spraying bucket should be cleaned in the open water source area. Do not clean the spraying pump at or near the drinking water source.
The pressure pump sprayer needs to be kept dry when not in use. If it is determined that it will not be used again for a long time, it is also necessary to pour out the fuel and lubricating oil in the sprayer and clean the oil pipe. At the same time, keep the inside and outside of the garden sprayer dry. If possible, the pump sprayer needs to be sealed.
When adding fuel to the garden motorized sprayer, it must be shut down for fire prevention.
After the garden motorized sprayer is started or before it is shut down, it should be allowed to run at low speed without load for 4 minutes to prevent acceleration or sudden shutdown under no load, otherwise the damage to the motorized sprayer engine will be permanent.
The running-in period of the brand new garden motorized sprayer is not less than 20h and it can work after the running-in period.