Garden hose gets tangles in garden! A lot of people complain about this. When you have connected a long water hose to the faucet and are prepared for irrigating the plants in your garden, you have to put the hose down and go back to flatten and straighten it again and again. If you don't do this, the garden hose tangles will cause poor flow of water or the hose getting stuck. Don't worry, the economical price garden hose reels at Tool.com will solve this problem for you.
There are different kinds of hose reels from different manufacturers and retailers, the retractable garden hose reel is the most common that can be permanently mounted on the side of a house or building. This hose reel can roll up and wrap the garden hose, so it can be neatly stored in the workshop or garage. Some garden hose reels are made of wear-resistant plastic with a crank handle for manually rewinding the hose back, or with a swivel wheel for automatically rewinding the hose. The retractable garden hose reel will solve the problem that hose tangles and help you water lawn and garden easily. If you own a large garden, you can invest our garden hose reel carts. Heavy duty garden hose reel carts can be used not only for large-scale gardens but also for industrial and commercial purposes. It can easily transport the water hose to where it is needed and placed on the ground during use.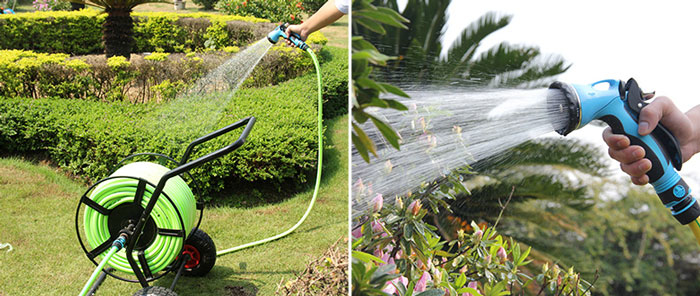 Tool.com provides 50 ft., 65 ft., 100 ft. retractable garden hose reel, 100 ft., 165 ft., 2-wheel, 4-wheel garden hose reel cart for your choice. In addition, you can buy 1/2", 1" garden water hose on our online shop. They are all at wholesale price. If you are a serious gardener or gardening enthusiast, it is necessary for you to buy them. Here is the price list of Tool.com hose reels below.
Tool.com price list
Note: The prices in the table are just for your reference. If you want to get the latest quotation, please feel free to contact us.