Electric drill is a conventional product in power tools, commonly used in construction, decoration, processing and personal DIY projects. In addition to drilling holes, electric drill can also loosen or tighten screws, or chisel away materials. Electric drill is a compact power tool, whose price is not very high. Most suppliers provide wholesale prices for users who buy electric drills in large quantities. According to power source, electric drill is divided into cordless drill and corded drill. On this basis, there are more powerful impact drill and hammer drill.
In Tool.com, you can buy electric drill online at best price. Cordless drill and corded drill are available, which have large drilling capacity and powerful functions. Please read the following content and price list. If you need more details about product or wholesale price, welcome to visit the product page or contact with us!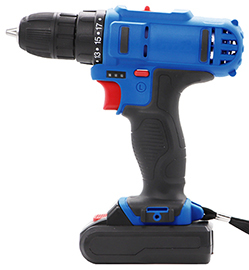 Cordless Drill
Cordless drill is powered by rechargeable battery. You can use cordless drill normally even in places where power sockets are inaccessible or wires are hard to reach. Of course, the premise is sufficient battery power. The comprehensive advantages of power, compactness, reliability, portable use and cost performance make cordless drill more and more the best choice for professionals or amateurs.
Power of a cordless drill is measured in volts. The higher the rated voltage of the battery, the more powerful the cordless drill. Generally, a light-duty cordless electric screwdriver is rated at 4 to 8 volts. Cordless drills with 12 to 18 volts can meet the needs of most DIY users. Higher voltages such as 21V and 36V are suitable for professional drilling work.
The higher battery voltage means that the cordless drill has a larger, heavier battery and a higher price. To find out how long the battery can be used after it is fully charged, check the ampere hour rating (Ah). The higher the Ah value and the volt value, the longer the battery runtime.
Cordless Drill Price List
Corded Drill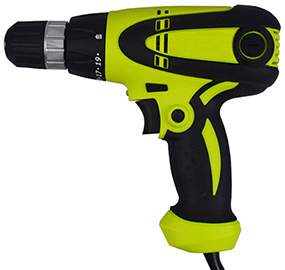 Corded drill can be used directly by plugging in the power source, so its running time is unlimited (unless there is a power outage). Corded drill does not require batteries, so it has a lighter weight and lower price than cordless drill. You do not need to pay for batteries and spares, thus reducing your cost. For heavy drilling tasks and long-term operation, corded drill may be your best choice.
On the other hand, power cord of the corded drill does limit the working area and is not as portable as the cordless drill. Depending on the distance between your work area and the power outlet, corded drill sometimes needs an extension cord.
Power of a corded drill can be referenced by Amps. The higher the Amps, the stronger the drilling capacity. A higher rated current is better for drilling hard material such as masonry, while if drilling into plasterboard, a lower rated current will suffice. For most basic families DIY work, a 2.5Amps corded drill is sufficient.
Corded Drill Price List
Hammer Drill Price List
Precautions for Using Electric Drill
Use a drill bit that matches the specifications of electric drill, and maintain the sharpness of drill bit.
When using an electric drill, rely on the strength of the drill bit itself to drill. Don't use too much force, otherwise the drill bit will become dull.
When drilling holes in metal, start punching from the center.
When drilling holes in hardwood, please test first to prevent splitting.
When drilling holes in plaster, be slower. If possible, place a piece of tape where you want to drill to prevent breakage.