If you like making some handcrafts, you must be familiar with a hot melt glue gun, because many small objects cannot be done without it. The hot melt glue gun is very convenient to use. In daily life, you can use it to repair furniture, paste objects or repair kid's toys. In addition, it is applied in many fields, such as carton sealant, automobile product assembly, refrigerator sealant, furniture production, shoe industry, wood industry, toy industry, textile industry, handicrafts and others. Now, we provide you the best hot melt glue gun at Tool.com online shop, selectable 20W, 25W, 60W, 100W, 200W, 300W. You can buy them at low cost. We've listed hot melt glue gun wholesale price list in the table below.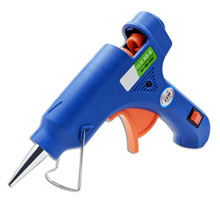 Tool.com hot melt glue gun wholesale price list
Note: The prices in the table are just for your reference. If you want to get the latest quotation, please feel free to contact us. Generally, it's cheaper than the price in the table.
Hot melt glue gun is a fastening tool featuring with a specific nozzle, unique filter design and easy to operate, which can meet the requirements of different production lines. It can withstand a high temperature of 300℃, so that it will not be deformed under long-term high-temperature use.
Performance
Our hot glue gun adopts high-tech ceramic PTC thermistor as the heating element, with fast heating speed and accurate constant temperature.
It can be used normally in AC or DC power supply between 100V and 240V, with built-in safety fuse.
7mm colored hot glue sticks for 20W, 25W mini hot melt glue guns, 11mm colored hot glue sticks for 60W, 100W, 200W, 300W industrial hot melt glue guns.
How to use the hot melt glue gun?
Before use, check whether the power source and the bracket are prepared.
Insert the glue stick in the hot melt glue gun and connect it with the power source. Preheat for about 5 minutes or don't use it until the stick has completely melted.
After the glue stick is melted, aim the nozzle of the glue gun at the place where the glue is needed and press the trigger gently to let the glue flow out naturally.
Please don't touch the nozzle because the temperature of the hot melt glue gun in use is extremely high.
If the glue gun is not in use, please place it upright on the table.
After use, turn the nozzle down and remove the power plug.
Please don't remove the remaining glue stick.