Lawn sprinklers offer a practical way for watering grass and flowers in dry weather, which help you build a beautiful garden or yard easily. Faced with so many kinds of garden sprinklers, you may be confused about how to choose them. Generally, the price of a lawn sprinkler is about between $25 and $45 in China. At Tool.com, we provide rotating sprinkler, multi head sprinkler, oscillating sprinkler, tripod sprinkler, impulse sprinkler and spike sprinkler for you, they are all at wholesale price. You can buy them according to the scale of your garden and yard, the more you buy, the more we discount. The wholesale price list of lawn sprinklers is in the table.
Tool.com price list
Note: The prices in the table are just for your reference only. If you want to get the latest quotation, please feel free to contact us. Generally, it's cheaper than the price in the table.
Benefits of our garden lawn sprinkler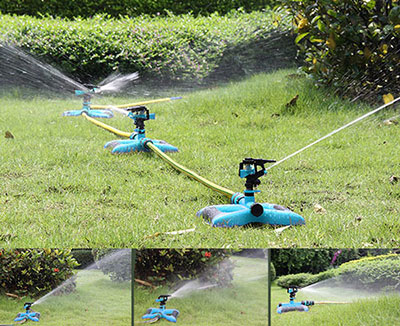 It is an important thing to choose a right lawn sprinkler for your garden or yard. An efficient garden sprinkler will give you a healthy lawn and help you save water. The lawn sprinklers at Tool.com have many benefits, which meet all your requirements for lawn irrigation.
The spray direction of our lawn sprinklers is adjustable. That means you can irrigate only that which you want watered and you don't have to worry about excess water spilling on the road. Especially, the multi head 360°adjustable lawn sprinkler we provide adapts to any shape or pattern that you can imagine. Impulse lawn sprinklers can make water atomized and fine, so that the soil can absorb it better.
The lawn sprinklers in China can rotate 360 degrees to water your lawn without you standing in the sun with the water hose. They have a large spray ranging from 540 sq. ft. to 800 sq. ft. If you have a large garden or yard, automatic impulse lawn sprinkler and 360° rotating spike lawn sprinkler may be best. You can connect several of them with water hoses as a sprinkler system according to the scale of your garden. Then, you will own a beautiful garden easily.
You don't have to move the lawn sprinklers all the time. They are effective and practical, which can automatically spray to take care of your lawn. The oscillating sprinkler we provide is one of the most effective sprinklers, which comes with plastic sled base and metal spray pipe that can move back and forth. If you want to water rectangular lawn, the oscillating sprinklers may work best.
No matter which lawn sprinkler you buy, you will receive a garden tool that helps you own a lively garden and lawn.