Air drill, as known as pneumatic drill, is a kind of handheld air tool that is mainly used for drilling metal construction, especially thin-walled shell and aluminum magnesium material. We use it a lot where we need to drill holes. It is better to buy air drills online at wholesale price, they are high quality and high performance. The most important thing is to help you save money. Air drill requires compressed air to work, so you need to prepare an air compressor and air hose before use. The compressed air is cold, long-term used of the pneumatic drill can greatly help it heat dissipation. This is why the factories prefer air drills for long-term work. In addition, it is safer than an electric drill, you don't need to be afraid of potential safety hazards like an electric shock and leakage. It is also suitable for special operations such as inflammable and explosive.
Pneumatic drill has the characteristics of high working efficiency and high drilling precision, which is widely used for electrical appliances manufacturing, house decoration, automobile and ship manufacturing, aerospace industry manufacturing and maintenance industry.
Tool.com provides the best air drills at wholesale price, including 90 degree angle air drill, straight air drill, and reversible air drill, chuck size 1/4 inch, 2/8 inch, 1/2 inch available. Price of air drills is affordable. Buy air drills online now, they will be your good helper in workshop.
Tool.com air drill price list
We've listed air drills for your reference, they are all at great wholesale prices. For more information, please go to the air drill products page.
Note: The prices in the table are just for your reference. If you want to get the latest quotation, please feel free to contact us.
Features of air drill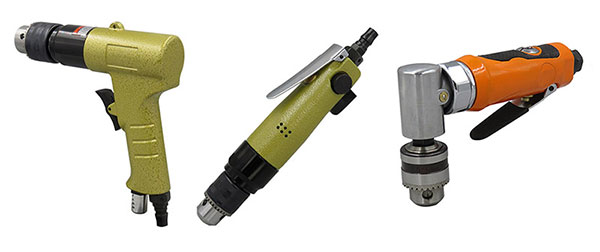 Low cost, compact body, small in size, light in weight, flexible and convenient to operate.
Fashionable, anti-slip handle, comfortable to hold.
Even rotary speed, high driving power.
High torque, high precision, long use life.
Selectable reversible, right angle and straight design.
Suitable for working in narrow places.
How to maintain the air drill?
The air pressure should be 0.6 - 0.8MPa.
The pneumatic drill cannot be idling for a long time to prevent under the high air pressure.
Before use, drop a small amount of lubricating oil into the air inlet to lubricate the engine and other components.
The air hose should be equipped with a water filter and lubricator to keep the compressed air clean and working lubrication.
Don't use it beyond the scope of technical performance.
After use or storage, it is better to fill a proper amount of lubricating oil from the air inlet, and start this tool to help the oil enter the engine to reduce the corrosion of the mechanical parts.