The plant trays (also called seed trays) is an important garden tool in the factory seedling production process, which provides a guarantee for the rapid and mass production of garden seedlings. The following is the wholesale price list of plant trays on Tool.com. We provide lower cost plant growing trays of different thicknesses and sizes. Here you can choose the thickness from 0.4mm to 1.2mm, or choose from 15 holes/ 72 holes/ 128 holes/ 200 holes/ 288 holes. At the same time, there are many types of plant starter trays for wholesale, which are used for the cultivation and transportation of succulents.
Plant Trays Wholesale Price List
| | | | | | |
| --- | --- | --- | --- | --- | --- |
| Product | SKU | Selectable Thickness | Pieces/ Set | Material | Wholesale Price |
| | T-XQ15 | 0.7-1.2mm | 100-150 | PS | $185.62 |
| | T-XQB72A | 0.4-1.0mm | 100-250 | PS | $180.00 |
| | T-XQB128 | 0.5-1.0mm | 100-200 | PS | $178.08 |
| | T-XS200A | 0.7-1.0mm | 100-150 | PS | $181.83 |
| | T-XS288A | 0.7-1.0mm | 100-150 | PS | $182.16 |
| | T-FY590A | - | 50 | PP | $141.36 |
| | T-FZ | - | 25-50 | PP | $158.30 |
There are two manufacturing methods to produce seed growing trays, blow molding and injection molding. The materials for making seedling trays generally include polystyrene foam, polystyrene, polyvinyl chloride and polypropylene. The plant seedling trays of general vegetables and ornamental plants are made of polystyrene material. And the plant growing trays for wholesale on Tool.com are made of high quality PP and PS material. The use of seedling trays has the following advantages: Reduced seed consumption, rapid emergence of seedlings; neat and short emergence of seedlings; convenient centralized management of seedlings, saving labor; high seedling survival rate. Now buy 50 or 100 pieces plant growing trays at good price, they can reach your hands intact even it is long-distance transportation.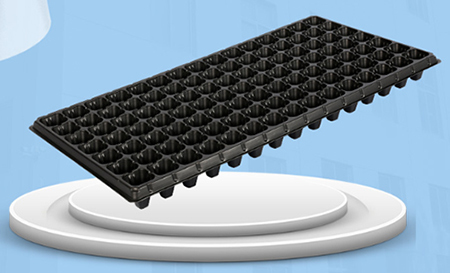 Notes
The small holes at the bottom of the plant sprouting trays can not be plugged. If the substrate is used with peat soil, it will not leak out. If using the powdering soil, you can first level the ground, and it is best to spread a layer of plastic film. Put the seedling trays on the ground (film) and then fill the soil, with a bar to scrape the soil flat, then you can sow.
When using the plant seed trays, do not water directly from above the substrate, or the seeds are easily washed out and the watering is not even. The best way is to use the small holes at the bottom of the seed trays to automatically suck up water. This method saves time, effort and is safe: The borders for seedlings should be made horizontal and the surroundings are made of weirs. When watered, the soil in the trays will soon become wet.
The prices in the table are just for your reference. If you want to get the latest quotation, please leave your comment.