When buying air nippers/ air crimpers, people in China usually pay great attention to the prices, manufacturers, specifications, etc. in order to get the best one. Now Tool.com has already compiled the air scissors & pneumatic crimpers best price list online, so that you can experience the ease of shopping. In China, the functions of air nipper & air crimper are different. If you want to cut copper wire, iron wire, soft and hard plastic, we have wholesale price air scissors with cutting capacity of 1.0mm-3.3mm, 2.5mm-12mm, etc. If you need help with terminal crimping, you can buy air crimpers with cutting capacity of 1.25-8mm. Get more information from the air nipper & air crimper wholesale price list before buying.
Air nipper is an automatic shearing pneumatic tool that uses compressed air as the power and uses solenoid valves to control pneumatic switches. Air scissors are mainly used in industries, such as cutting thin metal plates, trimming linear materials and cutting plastic nozzles, electronic feet, winding machines, etc.

How to choose the best pneumatic nipper?
1. Before buying a pneumatic nipper, we must confirm the material of the product to be cut. Because the pneumatic scissors for cutting metal wires and plastic nozzles are not universal, otherwise it will have a serious impact on the service life of the air nipper blades. In China, most of the materials that customers want to cut are nothing more than metal wires or plastic products:
The categories of metal wire:
Copper: Copper wire, aluminum wire, aluminum alloy, copper alloy, and other soft non-ferrous metals (For example: Bright wire, enameled wire, etc.)
Iron: White iron wire, galvanized iron wire, ordinary iron wire, iron sheet, iron bar, etc.
Steel: Stainless steel wire, steel wire, spring wire, piano steel wire, etc. (For example: 201, 301, 303, 304, 316 stainless steel wire, etc.)
2. Confirm the cutting capacity of the pneumatic scissors you need.
Air crimper, also known as pneumatic terminal crimper, is an air tool that uses compressed air for impact motion. General pneumatic crimpers are mainly composed of main parts such as power output part, operation form conversion part, intake and exhaust path part, operation start and stop control part, and tool housing. Of course, the operation of the pneumatic crimping tool must also have an energy supply part, an air filter part, an air pressure adjustment part and tool accessories.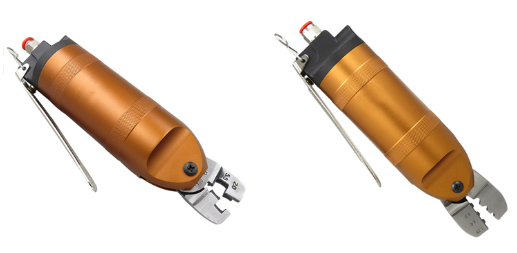 Advantages of air crimper tool
It can be used in explosive, corrosive, high temperature and humid working environment.
The structure is simple, durable and relatively easy to maintain.
Large output torque, light weight and high efficiency.
Disadvantages of air crimper tool
It is necessary to equip an air compressor as an energy supply, which has high maintenance cost.
High air tightness is required, and cylinder parts cannot be damaged or aged.
Without the flexibility of manual crimper and electric crimper, it cannot be carried with you.
Best Air Nipper & Crimper Price List in China
Maintenance of air nipper & crimper
Please add high-quality special oil for air tools before daily work to fully moisturize the cylinders, blades, bearings, etc. of the air nippers and air crimper tools, so that the pneumatic scissors and pneumatic crimping tools are in an ideal working state. Another purpose of adding special oil for air tools is to take the debris worn down during high-speed operation and the impurities transported in by the air pipe out of the air shears & pneumatic crimping tools. Avoid adding engine oil, gasoline, diesel and other unsuitable oils to avoid unnecessary damage to the air scissors & air crimpers.
Clean the moisture and impurities in the air source in time to avoid damaging the air nipper & pneumatic crimper.
When not using the pneumatic cutter & air crimping pliers, please clean off the sticking dust to extend the service life of the tools.
Replace worn bearings or front guide wheels in time to facilitate normal use.
The air nippers & air crimpers need to be handled gently, do not throw them away, so as not to cause unnecessary damage.
The method of adding special oil for pneumatic tools: Before lubricating, unplug the air source on the air nipper/ crimper tool, hold the air nipper tool/ pneumatic crimper tool in one hand and press the trigger at the same time, and turn the air inlet joint up. With the other hand, drip the special oil for pneumatic tools (usually 5cc, depending on the size of the air cutter/ air crimper) along the air inlet joint, press down the trigger and add 3-5cc special oil for air tools from the air inlet oil. Connect the air scissors/ air crimping tool to the air source, and wrap a rag on the tool exhaust port, press the trigger, and let the air nipper/ pneumatic crimper run freely for 30 seconds, then it can start normal work.
Note: If you are not sure which one will work best for your needs or have questions about shipping and bulk ordering, contact us for assistance.