Electric hammer is a widely used power tool. Electric hammer is based on the power drill, added a piston driven by motor to compress air back and forth in a cylinder, so that the air pressure in cylinder changes periodically. The changing air pressure drives the hammer in cylinder to strike the top of drill bit repeatedly. This principle is equivalent to hitting the drill bit with a hammer, hence the name electric hammer. Electric hammers belong to a category of electric drills, which are mainly used to drill holes in concrete, wooden boards, brick walls and stone.
Tool.com provides 2 types of electric hammers at best price: demolition hammer and rotary hammer, or you can buy them wholesale to get more favorable prices. This article will introduce the basic information of demolition hammer and rotary hammer, and show our latest price list. You can also visit the product page to learn more or contact us.
Electric Demolition Hammer
Demolition hammer, also called jack hammer, is a power tool used in breaking rocks, asphalt and concrete. In addition, a powerful electric demolition hammer has the function of demolishing tiles, tree stumps, bricks, and even frozen soil. Electric demolition hammer is driven by a motor and moves up and down like a hammer. Each hammer action will cut and break rocks and concrete.

Speed grade and power are the 2 important specifications of an electric demolition hammer. Speed grade represents the working speed of an electric demolition hammer, which directly affects its performance. One way to express the speed rating of electric demolition hammer is bpm, which is the number of hammer blows per minute. Some manufacturers use rpm to express speed, which is the number of revolutions per minute. The rated power of electric demolition hammer is usually in amps. Generally, an electric demolition hammer with a higher amps rating will have better performance.
Electric Demolition Hammer Price List
Product Name
SKU
Rated Power
Rated Current
No-Load Speed
Price
1.7kW 7.7A Demolition Hammer
T-DLHM-1700
1.7kW
7.7A
1850 rpm
$384.61
1.6 kW
7.3A
1550 rpm
$329.23
2.6kW 11.8A Demolition Hammer
T-DLHM-26
2.6kW
11.8A, 10.8A
1850 bpm
$345.39
1.8kW
8.2A, 7.5A
1400 bpm
$314.62
3kW 13.6A Demolition Hammer
T-DLHM-3000
3.0 kW
13.6A
1400 rpm
$392.31
1.85kW 8.4A Demolition Hammer
T-DLHM-1850
1.85kW
8.4A
3750 rpm
$204.85
1.9kW 8.6A Demolition Hammer
T-DLHM-19
1.9kW
8.6A, 7.9A
3600 bpm
$227.38
2.2kW 10A Demolition Hammer
T-DLHM-2200
2.2kW
10A
3800 rpm
$242.08
Electric Rotary Hammer
Rotary hammer is a power tool that can do heavy-duty tasks. As the drill rotates, the rotation and hammering action break the concrete. Electric rotary hammer uses this principle to work. Rotary hammer has greater impact energy and is more powerful than other types of electric hammers. Rotary hammer is very suitable for drilling holes in hardened concrete and can also be applied to construction or demolition tasks. Electric rotary hammer is similar to demolition hammer, but it has a lighter weight and lower price.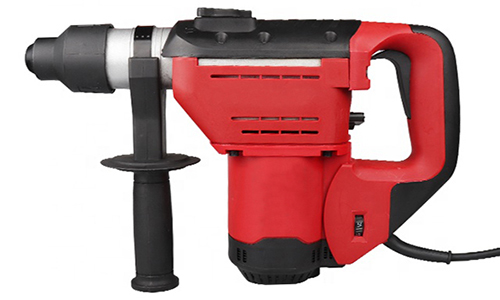 For most electric rotary hammers, SDS, SDS-plus or SDS-max drill bits are used in rotary drilling tasks. The chuck suitable for SDS-max drill bits is usually only used for professional series rotary hammers, and the price is usually higher.
The best rotary hammer has a variety of function settings, you can switch the working mode between hammering/drilling/demolition. When you select hammering only mode, electric rotary hammer can operate normally without rotating, it is most suitable for light demolition work or woodworking work.
Electric Rotary Hammer Price List
Product Name
SKU
Rated Power
No-load Speed
Drilling Diameter
Price
Rotary Hammer with SDS Drill, 500W, 20/22mm
T-RTHM-500
500W
0-1060 rpm
20mm
$134.15
22mm
$138.77
Rotary Hammer with SDS Drill, 620W, 24mm
T-RTHM-620
620W
0-1060 rpm
24mm
$149.54
Rotary Hammer with SDS Drill, 800W, 26mm
T-RTHM-800
800W
0-900 rpm
26mm
$178.46
Rotary Hammer with SDS Drill, 1000W, 32mm
T-RTHM-1000
1000W
800 rpm
32mm
$274.23
Rotary Hammer with SDS Drill, 850/1050W, 38mm
T-RTHM-1050
850W/1050W
500 rpm
38mm
$304.69
1180W Electric Hammer, 26mm, 880 rpm
T-EHM-880
1180W
880 rpm
26mm
$212.39
1180W Electric Hammer, 26mm, 1280 rpm
T-EHM-1280
1180W
1280 rpm
26mm
$258.85
1200W Electric Hammer, 26mm, 1200 rpm
T-EHM-1200
1200W
1200 rpm
26mm
$265.31